May 4, 2009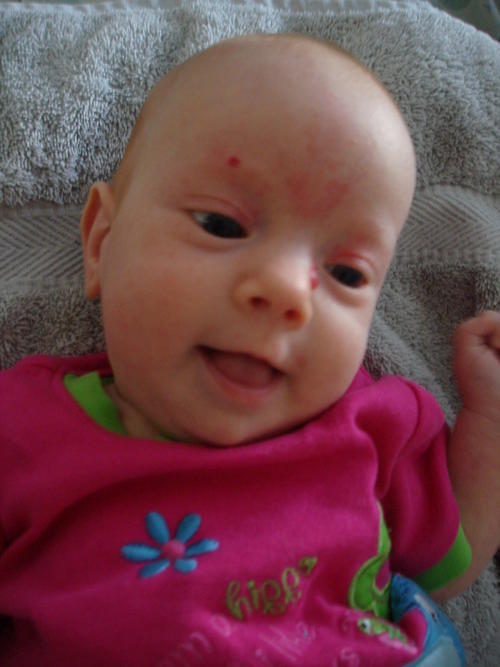 Weighing in at 9 pounds 7 ounces we officially have a smiling baby. Every morning when Daddy finally emerges from under the covers (after Elizabeth and Mommy have already been up for an hour or two) and greets Elizabeth with an enthusiastic "Good morning Elizabeth", she greets him back with a big smile. Nothing melts Daddy's heart like a smile in the morning!
With warmer weather and a continuously growing baby we are also enjoying all sorts of new outfits. One with a hippo on the front and bright colours is a real crowd pleaser. Speaking of crowds, Elizabeth is apparently an extrovert. Put her in a room full of people and she just laps up all the attention. We had suspected this earlier when she seemed to be better behaved when we had guests but after having about 30 people over the other day and having her be a model baby pretty much the entire time we're almost certain about it now.
1
On May 5, 2009 at 02:09 am
Stephanie
said:
Such a happy girl! Our 7-week-old has been giving me smiles all week long...and it just completely melts my heart.
You might also like
- Water Baby
(0.363858)
- Matthew
(0.362892)
- Capital of extremes
(0.353303)
- BYOB
(0.350275)
- Easter Sunday
(0.349432)
All