December 16, 2011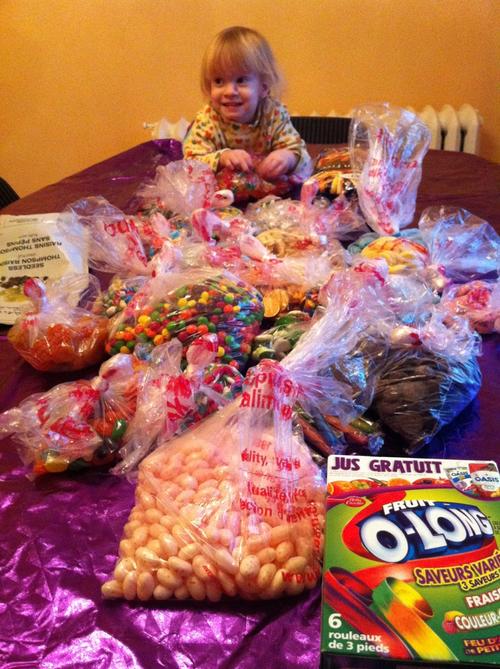 I got into making gingerbread structures with my friends in high school.
Sixteen (!!!) years later there are enough little kids coming that we decided to create a kids table. We always use gluten free dough and although I liked last year's cookies better, the dough this year was fabulous to work with. It rolled well and you could even pick it up. It baked a bit hard and had a tendency to bubble, so I guess we need to experiment further, but the lack of gluten is becoming less and less of an issue. If they'd just come out with a gluten free string licorice for wires and string I wouldn't miss it at all!
I added a new challenge this year with a sugar-free, gluten-free, dairy-free and molasses free gingerbread for a friend. The candy was replaced by non-sugared dried fruit, seeds and nuts, but replacing the icing was a big problem. Eventually we settled on peanut butter and honey but it was really too runny to hold multiple pieces together. It made a nice iced cookie though. Next year I'll have to experiment some more.
We got everything ready two days before the actual party, including baking pieces for Elizabeth's creation. She wanted to make a plain old house, so aside from insisting on stain glass candy windows I went along with it. She nearly took out the camera with the rolling pin while showing me how to crush the candy.
Elizabeth's eyes nearly fell out of her head when she saw the table full of candy. "I like eese and eese and eese and dere's cok-o-late mummy" Interestingly, she did not demand to eat it even though we had a mountain of yummy treats as our table centerpiece for two days worth of meals. We'd explained everything was for the party so I guess she understood that she had to wait.
1
On January 6, 2012 at 05:00 pm
Rachel @ Grasping for Objectivity
said:
Fun!! We didn't get to it this year, but Gingerbread houses are always my favorite!! And eating the candy - I guess I don't have the willpower that Elizabeth has.
You might also like
- 17th Annual Gingerbread Party
(0.405631)
- Je d'école
(0.405588)
- Flying Squirrel
(0.405303)
- 19th Annual Gingerbread Party
(0.40411)
- Construction Party
(0.397826)
All