December 24, 2011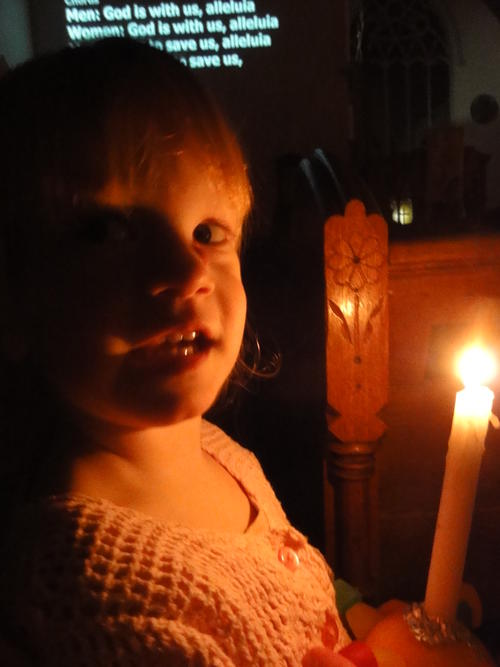 We forgot our reserved and rather clingy child at home this Christmas Eve. Instead we brought one who was wild, giddy and practically vibrating with excitement. Luckily others thought she was being cute, despite shrieks of laughter and running up and down the aisle between Grandma and Grandpa J and Godmother Rachel.
Our church gets the children to populate the empty manger scene with porcelain figures during the Christmas Eve service. Elizabeth stood in line, received a very fragile-looking sheep and marched it up the aisle with all the other kids while Mommy prayed fervently for sheep's continued survival. I think we were all rather surprised and impressed that Elizabeth just waltzed down the aisle without even a backwards look for Mommy.
Then Elizabeth and Mommy went out with the other kids for Sunday school where we mutilated oranges, trampled candies and sang many, many Christmas carols. (We made Christingles. Elizabeth was more or less able to explain the various parts to Daddy, though less successful at explaining to Grandma H the next morning!)
Time for the Candle Song, which we sing by candlelight and is one of my favourite parts of the entire church year. Elizabeth helped light the candles. Mommy spent several anxious moments redirecting hair (mine and hers) away from the flame. Someone else wasn't so lucky but the service ended with a very strong smell of singed hair, leading to a general patting of hairdos for many people around us, myself included. We never found out what happened, but since no one appeared to be actively flaming we're hoping it smelled worse than it actually was.
You might also like
- 52 cm of Snow
(0.391975)
- At Mary's
(0.389787)
- Missed the bus, Concussion, Matthew gets a stripe
(0.387619)
- Hawaii
(0.386986)
- Camping!
(0.385849)
All