January 16, 2012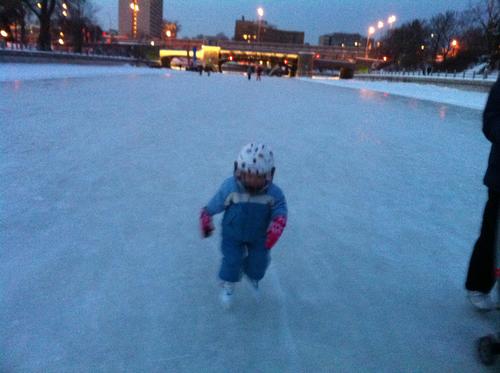 The 42nd season of the Rideau canal skateway opened yesterday! I was all excited and ready to drag Grandma J and Elizabeth onto the canal, but the conditions website said the ice was "poor" and Environment Canada said it was -23C (or -32 with the wind, if you believe in such things).
Since it was supposed to warm up to -5C today, we decided we'd better curb our enthusiasm. Sure enough, the temperature did rise and 5pm found the three of us standing "where the water goes" and admiring the "white white white everywhere".
"Do you want to skate first or ride in your stroller first?" I asked. She opted to skate, which tells you how excited Elizabeth was at this first opportunity to actually skate outdoors. Grandma J was impressed to see her moving down the ice, though Elizabeth was a little uncertain about the ice. "My skates are going all bumpy, bumpy, Momma!" She consequently didn't skate on her own too much, though she insisted on trying a couple of times.
We checked out the controversial new $750,000 skating huts and were underwhelmed. They are smaller than I expected. They are nice, but they are definitely not $750,000 nice.
Elizabeth and I skated from Pretoria Bridge to Fifth avenue. After that she rode in the stroller and even briefly napped. When asked later she told Daddy that "sleeping in the stroller" was her favourite part. Grandma and I skated all the way to Bank street and then back to Pretoria, so we've done the full open length (currently 2.2 km) Elizabeth was all bundled up but her feet got chilly and she howled the last kilometer or so. Then she cried uncontrollably all the way home. "I'm so cold I'm mis-er-able", she sobbed.
At dinner she told us all about how she had a "nice blanket to keep her nice and warm". Then she paused, thought about it and added "but I did get a little bit chilly". She's decided that next time we need a bigger blanket, because she's bigger than last year. But of course there will be a next time, because skating on the canal is "very fun". Mommy was extremely relieved to hear this...
1
On January 26, 2012 at 01:35 pm
Grandma H.
said:
Way to go Elizabeth! From Pretoria to Fifth! Looking forward to seeing more skating pix.
You might also like
- River Oak
(0.416514)
- First Beavertail
(0.40566)
- H1N1 Rock Concert
(0.402643)
- Doors Open: Robert O. Pickard Environmental Centre
(0.396552)
- Matthew's first skating class
(0.393607)
All