January 6, 2012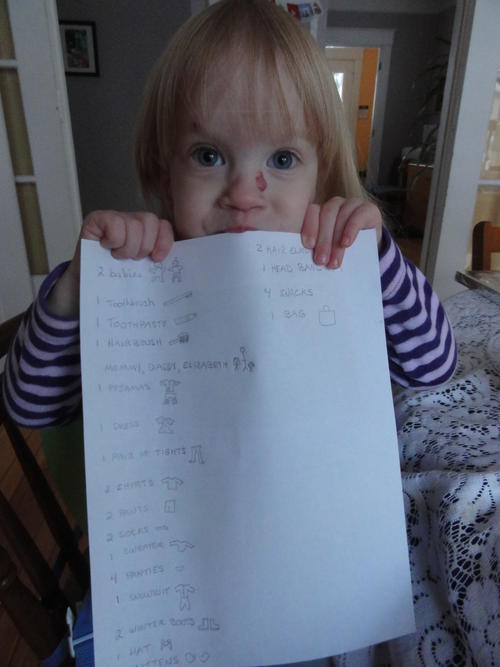 Brendan and I have a list of life skills we'd like Elizabeth to acquire by "the age of reason", and this week it seemed logical to focus on how to make a packing list.
Over the course of a few days, Elizabeth figured out what she'd need. Then Mommy wrote it down in a list, complete with pictures so that Elizabeth could read it by herself.
At packing time she was able to go through the list, get all the items she needed and put them in her little suitcase. She managed surprisingly well.
1
On January 23, 2012 at 01:49 pm
Grandpa H
said:
Dear Elizabeth, I am very impressed that you are grown up enough to pack your own things! When are you going to pack a suitcase and come to visit us? ;) Love, Grandpa
You might also like
- Cold weather activities
(0.333333)
- Pancake Chef
(0.317669)
- Packing List
(0.316901)
- Strangers
(0.316151)
- First Snowman
(0.315315)
All