December 31, 2011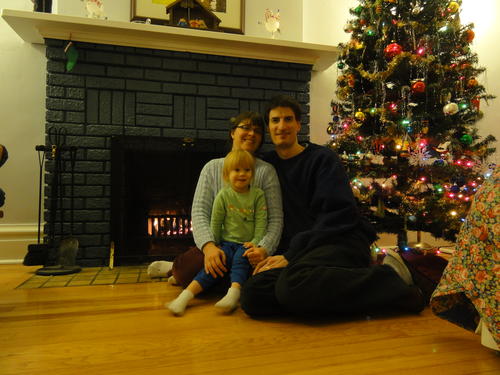 We celebrated New Year's Eve with Chinese Fondue, sparkling grape juice (Strawberry/banana yop for Elizabeth) and a roaring fire.
A hyper toddler and sharp fondue forks are very, very frightening.
At "midnight" we did a count-down and opened the door to let the New Year in. Elizabeth half-expected someone to be at the door. Daddy had to stop her from running away - I'm not sure what or who she thought would be there but enthusiastic rushing to open the door suddenly gave way to extreme shyness. Apparently there might have been something scary.
Mom and Dad had every intention of going to bed shortly thereafter, but our traditional Scrabble game dragged on a bit. Mommy won, eventually.
1
On January 21, 2012 at 04:02 pm
Grandma H.
said:
I'm with Elizabeth on this one. Opening the door in let in something as vague as the New year sounds scary to me too.
You might also like
- New Year's Day
(0.386322)
- Helping Hands
(0.315517)
- Valentines
(0.315372)
- Ice Cream and Pony
(0.311141)
- First Communion
(0.311075)
All