January 18, 2012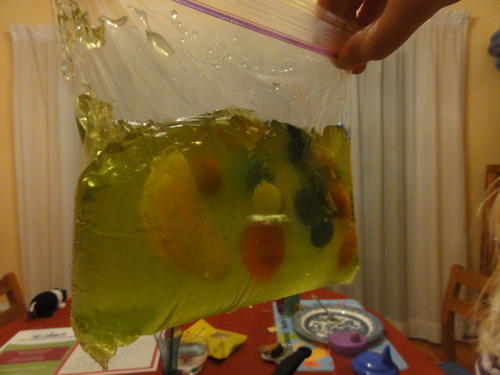 We have a cool book that we got from Staples ("How Your Body Works" by Anita Ganeri) for $3.75. It doesn't appear to be in print anymore, and I'm totally sad that we didn't stock up because I'd love to pass it on to lots of little kids that I know.
Anyway, Elizabeth loves this book, so we thought we'd go through some of the topics in a little more depth... Okay, so Elizabeth's parents are science nerds - we freely admit it!
The first topic is "the cell" so we took out every "juvenile" book on cells stocked by our local library system in English and in French (I requested the ones that weren't immediately available, so I'm sure I got them all...) We looked at a ton of very pretty pictures of cells, but shockingly many were not particularly age appropriate.
A few of the books that we did like:
Sam's Science: I Know How My Cells Make Me Grow
Elizabeth loves this one. The book mainly talks about how you grow because your body's cells are busy making more cells. Mommy could have done without the last page though, which shows the little boy laughing at his mother who is "growing out instead of up". Whenever anyone bends over and shows skin, Elizabeth has taken to repeating "You're busting out of your pants!" Brendan thinks this is the funniest thing ever, unfortunately. Oh well!
Your Body's Heroes and Villains: Microexplorers : Learning Aobut Immune Cells : The Tiny Defenders That Safeguard Our Lives Against Nasty Bacteria and Viruses
At first glance this one is way too advanced but Elizabeth was fascinated by the idea of her "defender" cells battling against the nasty bacteria and viruses that make her sick. I wouldn't expect to be reading this book word for word to any two year old, but ours is too small to notice that we're only reading a sentence or two per page. Small Stuff demanded that Mommy read this one over and over.
Cells
Also not exactly aimed at the toddler set, this one is simply structured (making it easy to read the short attention span friendly bullet points) and had a simple illustration of a cell. Why so many "juvenile" books about cells can't include a basic diagram of a cell is beyond me! Now admittedly the library is likely missing some great titles, but they did have quite a number of books. In English anyways.
One of the books suggested making your own model of a cell with plastic bag cell membrane, jello cytoplasm, cherry nucleus and M&M organelles. We added the orange to represent mitochondrion because one of the books talked about how there are "fires" inside your body and totally captured Elizabeth's imagination. Subsequently it's probably her favourite part. Although NOOOcleus is probably a close second, just by virtue of the way it sounds. We rapidly realized that M&Ms are not the ideal materials to use in jello as the dye diffuses into it within a minute. Mommy and Daddy had to close their eyes in order to eat the disgusting result. We suggest raisins instead...
1
On January 30, 2012 at 04:09 pm
Grandma H.
said:
Fantastic catching her imagination on how we are put together--we are indeed wonderfully made!

Just watch out, one of these days Small Stuff will notice some, ahem, reading irregularities?
You might also like
- Homeschool wk may 11-15
(0.420189)
- Child Labour
(0.417443)
- Thirty four months
(0.412802)
- Currency Museum
(0.408177)
- 18 Months
(0.407483)
All