January 21, 2012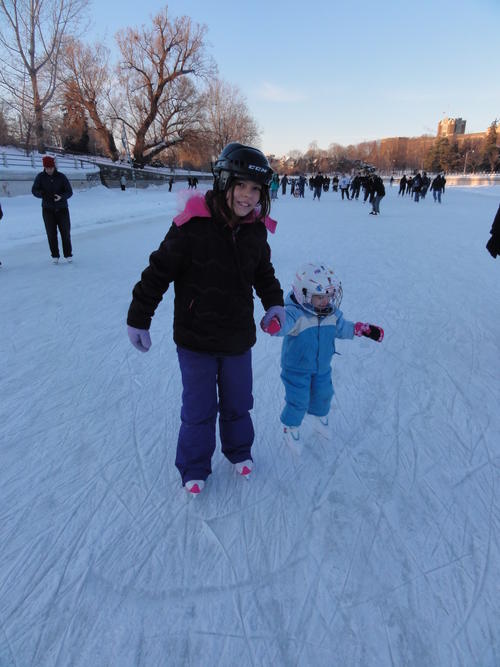 Elizabeth and I went skating with Auntie Heather and cousins Josie and Daniel.
Josie skates very well. Daniel is just learning to skate and doing very well. He's about as fast as Elizabeth, except Elizabeth is very uninterested in skating on "bumpy" ice. Lesson-wise she's getting faster, starting to learn how to glide (mostly on the right foot) and is quite graceful and fast when turning in circles. But on the canal she takes a few steps, demands to hold someone's hand, takes a few more and then just wants to go "fast fast".
"Fast fast" is also known as gliding while someone else tows her along, and she quite enjoys that! Daniel kept lifting his legs while being towed, which was hard on the arms for both tow-ee and tow-er(s).
I brought the stroller and popped Elizabeth in when she thought her feet were getting cold (about Fifth again). They were like little ice cubes - amazing how fast she seems to get cold. She must not have great blood circulation in her extremities! I brought a sleeping bag and one of those foot warmer things to keep her warm and she warmed right up. At a certain point Elizabeth, Daniel and I turned around to shuffle back to the hut while the others sprinted up and down the canal. Elizabeth sang "warming songs" all the way home.
You might also like
- Happy Birthday Uncle Chris!
(0.362534)
- Seven months
(0.361858)
- Matthew's first skating class
(0.359777)
- Winter science
(0.359649)
- Piano Recital
(0.359116)
All