January 24, 2012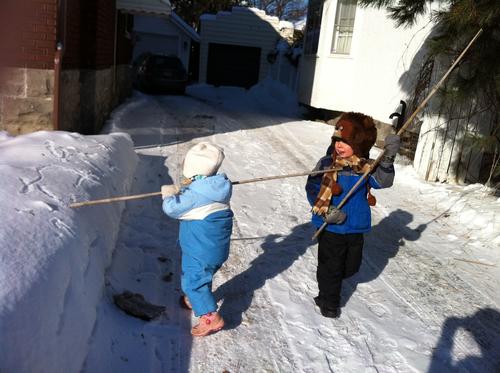 Last time Auntie Heather, Josie and Dan stayed overnight, the kids were savagely forced to spend a few minutes helping me decide whether my new winter coat was warm enough. I bought it online and wasn't too sure whether I actually liked it at first (I think it's fine now!). There was much complaining and gnashing of teeth about having to go outside.
Josie and Daniel were playing tag and climbing over things that Elizabeth couldn't. She tried to tag along, then stood by herself for a bit. Then Elizabeth remembered the stick pile.
Dan instantly lost interest in climbing and the two of them played poking sticks into the snow and roaring for a very long time.
You might also like
- Sledding disaster
(0.351494)
- Rain
(0.331325)
- Climbing
(0.330784)
- Number One Buddy
(0.32996)
- Repointing
(0.329204)
All