January 28, 2012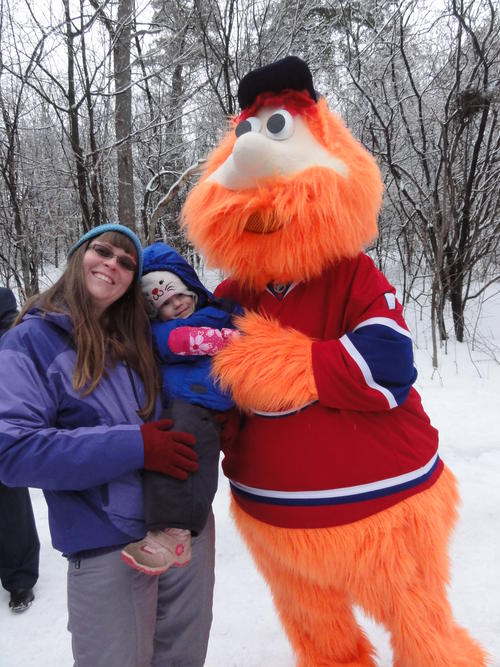 Uncle Dave, Auntie Karen, Xander, Auntie Heather, Heather's friend Michael, Josie, Daniel, Auntie Yukiko, Erika and Maria met us at the Governor General's winter celebration where we admired many winter sports and ate many free timbits.
The dogsledding was beautiful to watch; but sadly none of us arrived early enough to get one of the coveted spots - apparently the line was over two hours long by the time they stopped letting people line up. Swedish, Norwegian and Finnish embassies were handing out food and flags. It was a bit random, but we enjoyed watching the multi-person skis and kicksledding demonstrations. Elizabeth kind of wanted to stop but since she was too little we thought we'd better find a more age appropriate activity.
Since Mommy was unable to eat the donuts she sadly had to fill up on Swedish chocolates instead. It's a rough life :) There was hot blueberry soup on offer as well but we thought it looked like a dangerous combination with a toddler!
We eventually arrived at the skating rink, a few minutes before it closed for an NHL All Star event. Elizabeth declined the offer to skate "quickly", so we waited around to see what would happen. All the Canadian NHL mascots were apparently going to make an appearance; how fun! Meanwhile the rest of the crew were caught in All Star traffic or otherwise delayed, but eventually we converged around the rink where we waited and waited and waited for the exciting event. The mascots showed up. Maria was terrified. Erika loved them and Elizabeth was not sure. We expected a show but they just wandered around and then left again. Some kids did a skills competition demo but ours were just not interested. So after a bit we got in line for a tour of Rideau Hall. Xander and his parents left, and a minute later we finally found Auntie Heather, Josie and Daniel! What a neat place Rideau Hall is! I was surprised by how pink the circus room was - I doubt such an outlandish addition would ever be permitted today. Josie was a bit disappointed that we didn't get to meet the Governor General, feeling that if people were going to wander around his house, he ought to be home to say hello!
Afterwards Elizabeth participated in her first snowball fight. It was epic.
You might also like
- Family Day
(0.428457)
- Fall summer
(0.418217)
- Winter Feast
(0.417947)
- Epic adventure day
(0.414167)
- Sportball
(0.414029)
All