May 9, 2009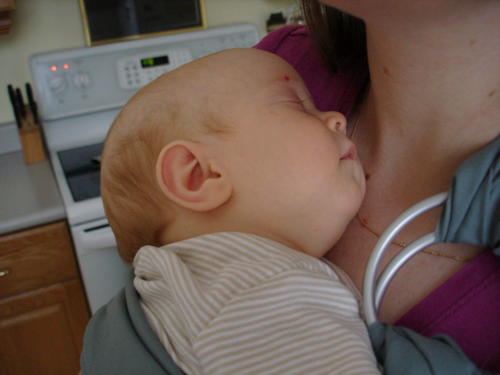 I've started using the baby sling a lot more recently since Elizabeth is a bit bigger and able to sit up in it more easily now. I had been finding that she was rather fussy in the cradle position - happy for about 10 minutes at a time and then wanting to be up on my shoulder, but now that we've figured out a vertical position she's spending a good chunk of her awake time strapped in.
When she is feeling especially cranky, walking her in the sling is a good way to put her to sleep. This means that the sling is not exactly hands-free (if she's sleepy she tends to fling her head around in a frightening way), but it's much easier on my back and shoulders not to have to hang on.
I like to see what kind of events are going on in Ottawa and I noticed that the Victoria Day festival was starting this weekend, supposedly with petting zoo, face painting, band shell entertainment and cultural events. Elizabeth is perhaps a bit small to take full advantage of a petting zoo but she does like getting out of the house so we went to check it out in between rain showers on Saturday. I don't know if they decided not to bother because of the rain, but the "festival" consisted entirely of less than a dozen non-free fairground rides and a couple of concession stands when we went by. So it was not exactly as advertised! At least we got to see the tulips again!
You might also like
- Mooney's Bay
(0.384211)
- Water Baby
(0.383188)
-
(0.380182)
- The birds and the bees
(0.377212)
- 33w 6d
(0.376458)
All