February 25, 2012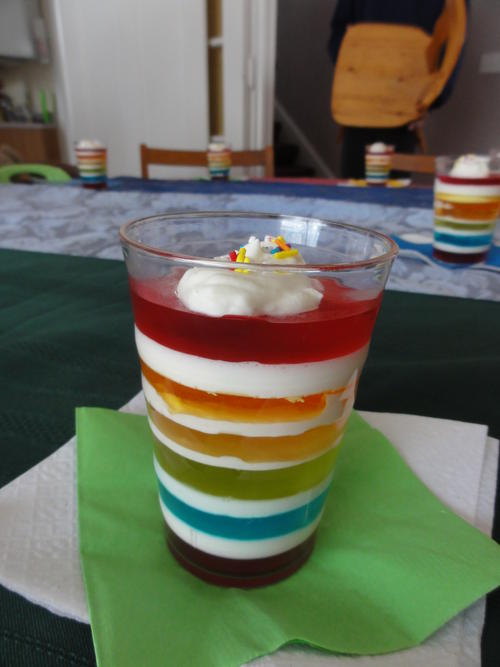 We asked Elizabeth what she wanted to do for her birthday party.
"A rainbow cake. With candles and chocolate chips on top. And all my cousins." she replied. It's getting tricky to schedule all the cousins at once, especially since Auntie Janice works weekends and Auntie Heather, Josie and Daniel are only available weekends. In looking up whether there was such a thing as a rainbow cake, Mommy tripped across numerous rainbow party ideas. Daddy is now firmly convinced that Pinterest is very, very dangerous. (Pinterest is a website that lets you virtually clip or "pin" pictures out of other websites and group them together on a virtual bulletin board)
In addition to the rainbow cake, we had rainbow balloons (with paper hats to cover up the bridal shower messages). We had seven tablecloths in the colour of a rainbow. We had rainbow fruit, rainbow jello, rainbow napkins, rainbow clothes and rainbow fruit and vegetable juice. Auntie Janice's rainbow costume was especially amusing. Elizabeth had a secondary Hello Kitty theme going too, because wearing that Kitty dress was one of the things on her list of what will happen "when I'm three"!
The rainbows on the cake didn't stand up the way they did on Pinterest, but then I had trouble finding something that was gluten-free! The chocolate chips say "Happy BDay".
I was very pleased with how the jello turned out. Angie brings us proper English jelly when she visits so I had all the colours except blue. Turns out someone had brought blue powdered jello here to make water for Gingerbread (hi Lorraine!) a few years ago. I made a cherry cheesecake base for the white layer, which was by far the most time-consuming part of the dessert. Soften cream cheese. Mix milk and gelatin. Mix together with cream and then frantically pour into each cup before it solidifies into non-pourable blob. I also learned that jello that has set prematurely due to overaggressive use of ice cubes can be reheated and it will reset. (But don't try that trick with cheesecake base!) I found making individual cups much easier than a giant dessert, once Janice made me put them all onto a tray. I don't like tasting fridge in my jello, so I *always* cover it. But covering and uncovering seventeen separate glasses was a real pain. Janice came to my rescue again with Glad Press 'n Seal plastic which we bought by accident a couple of years ago. So that's what it's good for!!!
Grandma and Grandpa H attended by Skype and Uncle Mark sent greetings (he was sleeping on the other side of the world). The kids had to complete a treasure hunt for each present.
Elizabeth was very concerned that I would forget the words to Happy Birthday, so she made Mommy and Daddy practice a few times in the days leading up to her party. "Don't forget to say dear ELIVABEF" she would say, very earnestly. Then she'd sing the whole thing so that I would get the idea.
We did sing, and I resisted the temptation to insert a different name at the appropriate time. Elizabeth blew out her candles on a big cake, but gave everyone their own individual cupcake. That meant I didn't have to make a separate cake for her actual birthday a few days later and the guests (especially Jesse) didn't have to worry about "baby spit". Win win!
After the party we went sledding with Josie and Daniel. Even Daddy slid down the hill.
1
On March 9, 2012 at 06:11 am
Amy
said:
Mary, I adore your rainbow party! Especially the jello dessert and the fruit tray, both of which look delish.



I'd thought of a rainbow theme for Samuel's birthday, but now I think we may just make some cupcakes and call it a day!
2
On March 10, 2012 at 05:35 pm
Grandma H.
said:
What a lovely party! what a clever mommy to put so many rainbows into the house! Lucky birthday girl!
3
On March 17, 2012 at 05:55 pm
Grandpa H
said:
Breathtaking! You know what, you are great parents... you make us feel a bit guilty ;)
You might also like
- Homeschool wk may 11-15
(0.462849)
- 5th Birthday Party
(0.456897)
- Orchestre
(0.454041)
- Great Grandma Funeral
(0.452334)
- Sewing with kids
(0.451138)
All