March 18, 2012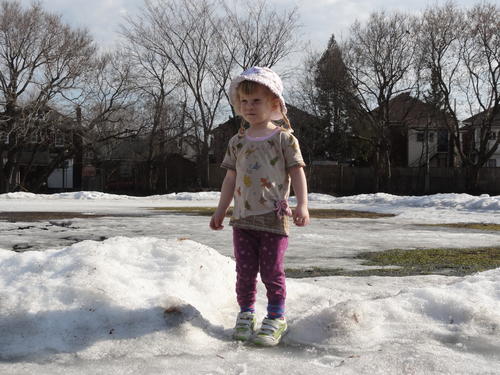 It's unseasonably warm here in the "frigid north". Today, for example was 23 degrees Celcius, with a humidex of 25.
It was very weird. Our neighbours went skiing in short sleeves. We just went to the park, where Elizabeth stomped around on the massive snowbanks left behind by the skating rink and rejoiced in swings and slides.
The park was a bit frightening. Elizabeth has clearly been growing, judging by the way she easily skipped around the play structure (instead of painfully crawling from giant step to giant step with the odd help from Momma). She does not need help to get up or down the slides anymore. She thankfully can't reach the monkey bars by herself (yet), but insisted on being lifted up to try like the other kids. She was disappointed to find out that she's a bit too tall for the "baby" swings now, until she got a demo from neighbour Alex on how "big" kids operate them.
We had to raise the seat on her bike. Daddy showed her how balance bikes are supposed to go, and now she scoots along rather fast for Mom, taking her feet OFF the ground. I strongly regret the insane impulse to buy her such a contraption as I suspect that someday soon she's going to scrape all her knees and elbows. At least with the skating she was well protected in a snowsuit - I find this biking business is highly nerve wracking, especially since she can accelerate faster than me. Lots of discussions about not getting squished by cars etc etc.
1
On March 31, 2012 at 04:59 pm
Grandpa H
said:
We hope Elizabeth won't actually scrape "all" of her knees and elbows, although sooner or later she will scrape some of them. She will recover from the experience, and probably faster than mommy. Yes, she is a big girl now, and some, non-fatal risks are part of getting bigger... At least she isn't playing trapeze with a board balanced on some rocks ;)
You might also like
- 19 Months
(0.377376)
- Toothless
(0.374745)
- Amelia 23 Months
(0.372719)
- Derecho
(0.370983)
- Broken nose
(0.368885)
All