March 20, 2012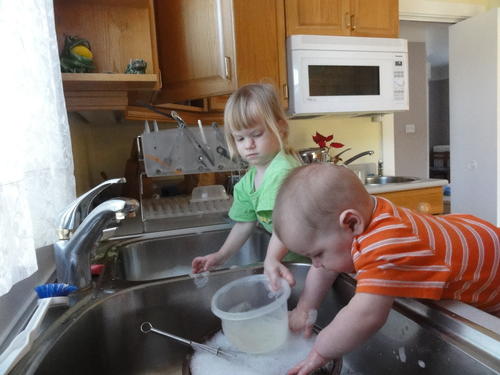 We got to look after baby "Yander" while Auntie Karen picked Uncle Dave up from work.
Now that he eats solids, looking after him is super easy! When he got unexpectedly hungry, we could just fed him mashed banana. Elizabeth was very pitying of the poor baby who "gots no teeth" and therefore isn't allowed to eat pasta or chocolate.
Elizabeth and Xander washed dishes together for the first time. We doubt very much that this is the last time.
1
On April 3, 2012 at 05:16 pm
Grandpa H
said:
Child labour! Child labour! That's illegal you know... ;) And then denying chocolate, that's abuse ;)



More seriously we are so delighted that Elizabeth will be able to teach Xander many things, including the art of serving through washing dishes and other things. We hope she'll only teach him good things :)
2
On April 3, 2012 at 05:20 pm
Grandma H.
said:
Oh, my, Xander looks like he's ready to climb right in. Elizabeth has a big job to show him how to wash dishes properly.
3
On April 5, 2012 at 01:28 pm
Uncle Dave
said:
What a cute baby! ;)



Thanks for the pictures, and thanks for entertaining him for us! :)
You might also like
- Park with Xander
(0.319512)
- Big Day
(0.308943)
- Angie
(0.308008)
- Karen's birthday
(0.307512)
- Happy Birthday Uncle Dave
(0.30203)
All