March 24, 2012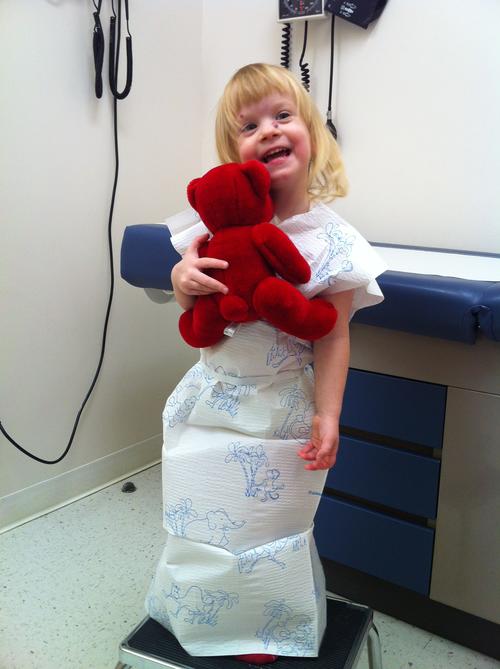 Elizabeth went to her three year old medical check up at the end of February, but I totally forgot to blog about it until I recently got around to downloading photos from Brendan's phone. We've been a wee bit busy with work lately...
Officially she measures 92.2 cm and 11.88 kg, which means she's now in the 10th and 20th percentiles. In other words, more or less following her curve. Elizabeth pretended to be mute during most of the appointment. The various questions they asked weren't memorable, except where they asked us whether Elizabeth was talking in sentences of at least five words. She sure is, said Daddy.
The actual appointment was pretty uneventful, except that we were THRILLED to discover that Elizabeth has a new pediatrician (Dr Lynn Jacoby). You may recall that our previous health care provider hassled me about breastfeeding (and stated that breast milk lost all nutritional value after Elizabeth turned one). Or his colleague that counseled coke for "electrolytes". I got to the point where I really felt I had to guard every word I uttered about Elizabeth in case they decided that concerns I have might be related to some "unusual" parenting decision we've made. Old pediatrician made me feel like we were being graded and not measuring up (not that I agreed with his scale!)
Unlike her predecessor, Dr Lynn took her time getting to know Elizabeth. She seemed to know her stuff and I came out of the appointment feeling rather giddy. It's just so nice to feel that the doctor that looks after Elizabeth might be someone I can trust and respect. New pediatrician makes me feel like she wants to be on my team.
1
On April 4, 2012 at 04:42 pm
Grandpa H
said:
Like - where's the Like button? I need a like button... ;)
2
On April 5, 2012 at 11:34 pm
Auntie Janice
said:
Cute gown! I want a printed one like that next time I'm in one of those...!
You might also like
- Four month checkup
(0.409004)
- 2 month checkup
(0.403968)
- One week
(0.399783)
- 14 Months
(0.395203)
- Home
(0.39476)
All