March 25, 2012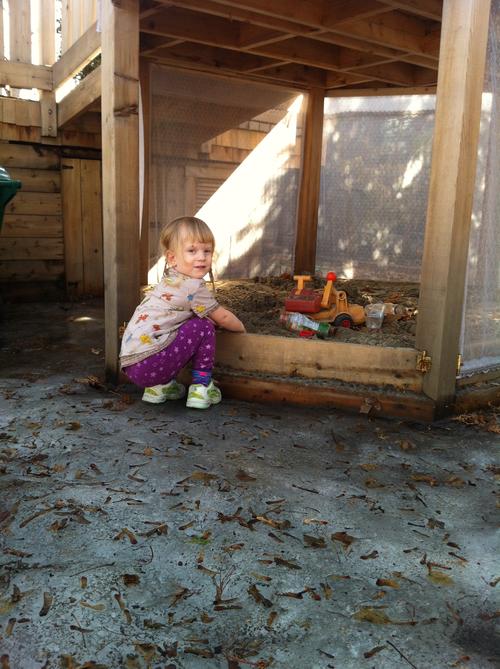 I can't remember if I posted pictures of Elizabeth's finished sandbox, but we replaced our ugly blue tarp with curtains last fall and it is now D.O.N.E.
Except that apparently the "brass" fasteners we purchased are actually steel with brass coating, and therefore are rusting. Sigh...
The idea was that a vertical piece of fabric would dry quickly and not gather spiders, ants and wood lice underneath. This is working. A cover is necessary to avoid our lovely neighbourhood cats from treating it as their personal litterbox, and although the fabric does have gaps on the side, we figured that most cats prefer not to feel trapped.
This also seemed to be working, until a couple of weeks ago when Brendan noticed one of the curtains flapping loose in the wind. Have I mentioned we have raccoons? Apparently one or more opened a curtain, then couldn't get out, panicked and ripped a curtain right off on the other side. Luckily it was easily reattached, but now my lovely curtains have claw snags and raccoon prints as "extra" decoration.
I was thrilled to discover that they did not use the opportunity to use the facilities. Apparently they save that for the car hood roof of our garage, which is infinitely preferable to the sandbox. The 'coons haven't returned, so hopefully they were just curious and got a scare.
A couple of days later at breakfast Elizabeth and I actually saw two of them heading for bed. One walked along our fence, and the other tightrope walked along the cable TV line!
You might also like
- Racoon proofing
(0.395792)
- Train!
(0.384774)
- Dovercourt
(0.384464)
- 16 Months
(0.384038)
- Butterfly Adventure
(0.383784)
All