April 3, 2012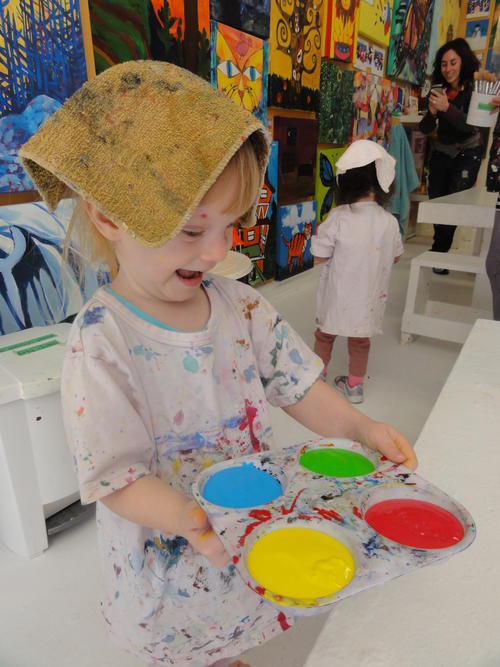 Elizabeth's been taking a weekly mixed media art class for the last few months, and while we're pausing classes for the summer Elizabeth will definitely be taking another class in the fall.
Every class started with oil pastel drawing while waiting for all members to arrive. This was popular (and meant that we had extra incentive to be on time!) Then they said hello to the fish and went to the paint splatter room to do their "exercises". At first Elizabeth wanted a parent to go to the back with her (as did many of her classmates), but soon they were all trooping to the back with Emaly while the parents hung out at the front of the shop.
After exercises, they worked on one of the many projects Emaly had organized for them throughout the session. One week Elizabeth made a self-portrait out of Sculpey. She made a clay pot. The last week she learned how to throw paint at the wall, which the kids actually found surprisingly tricky. Elizabeth kept wanting to touch her brush to the paper. They worked with many different kinds of clay, they painted in many ways, they made puppets, they silk screened and made a mobile. They used many types of tools - paint brushes, plastic spreaders, fingers, scissors... I was surprised by how well many of the projects turned out. Did I mention Emaly is a bit of a genius with small kids? She really broke down the steps for each project. At the same time she wasn't too fussed about how it ended up - after all, at this age it's the process that matters most!
So yeah - if you are looking for art classes, check out 4Cats...
1
On April 17, 2012 at 02:38 pm
Grandpa H
said:
My Elizabeth, what a good artist you are, and you can paint your name so well!
You might also like
- Music
(0.377065)
- Virtual School: Week 34
(0.375254)
- Skating
(0.374861)
- Virtual School: Week 37
(0.373869)
- Homeschool wk june 15-18
(0.372703)
All