March 31, 2012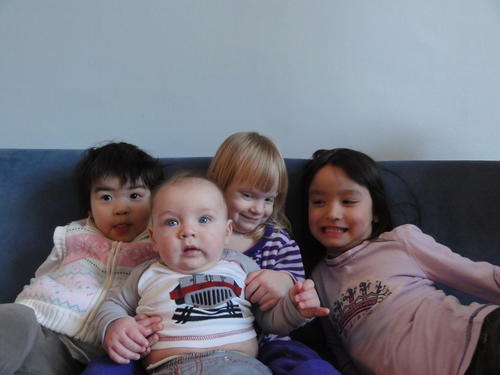 Uncle Chris (my hero) looked after five cousins while I was at my dance class and Brendan was building his TV antenna.
Uncle Dave and Auntie Karen dropped Xander off while they had a hot date at Home Depot. We got all the cousins to make faces at the camera for next year's calendar, and generally had a good time.
Josie and Daniel even got to Skype with their mom and dad in Simcoe, even though they were still busy playing outside. Technology is pretty amazing!
I was very amused by the dynamics between the kids, especially once Xander arrived. Maria started crawling around pretending to be a baby. Normally that would be Elizabeth's response, but since Maria took that role, Elizabeth grabbed a doll and started "mothering" it. I was just as happy not to deal with the play-crying, since toddlers seem to need to "cry" a lot more than the real babies I know! Josie was looking after Xander, giving him truck and bouncy horse rides. Daniel and Erika (the five year olds) weren't interested in babies (yech!) and so took off somewhere for a wild game of something or other upstairs.
1
On April 15, 2012 at 09:58 pm
Yukiko
said:
Uncle Chris doesn't think he was heroic at all. He says he's very happy to do it again ... so you may want to bring them more often! :D
You might also like
- Roses and Thorns
(0.36457)
- Happy Birthday Auntie Karen
(0.362733)
- Good Friday
(0.362216)
- Berry picking, birthday and a date
(0.361446)
- Family Reunion
(0.360697)
All