April 4, 2012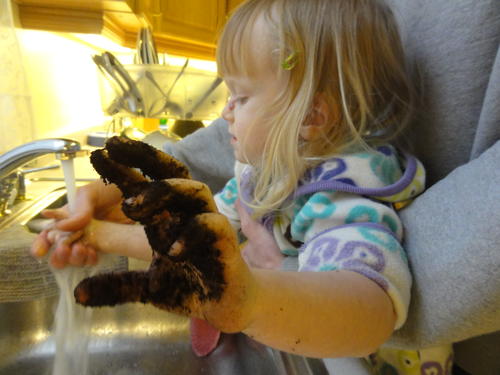 I usually garden by neglect, so some of you might be wondering how it is that we're actually growing tomatoes from seed this year.
You see, we get my parents' mail. Elizabeth is OBSESSED with getting mail, but we hardly ever receive any. So getting my parents' mail has saved me from having to generate fake mail for Elizabeth. Their mail is often pretty cool from a toddler perspective as they've apparently signed up for a lifetime supply of stickers, greeting cards, matching envelopes, gift bags, gift boxes and cheap pens from dozens and dozens of well-meaning charities that I'm now never going to give money to since they are apparently wasting it all on stickers and greeting cards (ahem).
Probably I should mention that my parents have no idea how they got on all these lists - I was particularly amused to receive the one from PETA (an organization that I'm pretty sure Dad doesn't support financially!)
Anyway, getting their mail is good. But sometimes it is very, very dangerous. For instance, my dad signed up for gardening catalogues last year...
1
On April 14, 2012 at 00:12 am
Auntie Janice
said:
So that's how it started!!! I was wondering ;) but they are growing, which is exciting.
2
On April 17, 2012 at 01:12 pm
Grandpa H
said:
Vicious lies - I have not joined PETA, and I did not sign up for gardening catalogs!



I did however buy some seeds online for your mother to bring to Africa, which sadly have gone mostly unappreciated and unplanted... probably Grandma needs Elizabeth's help :)
You might also like
- Chicken Chicken
(0.362857)
- Shark!
(0.353674)
- Virtual School: Week 18
(0.351213)
- Incredibles 2
(0.35049)
- Kindergarten Report
(0.348168)
All