April 5, 2012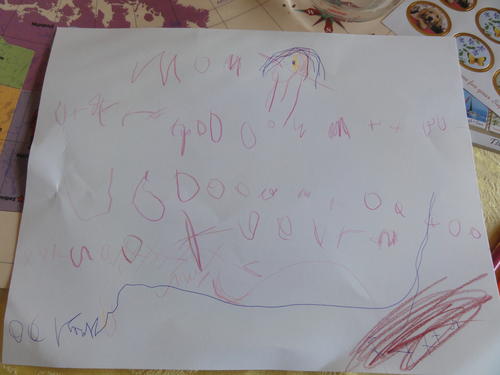 Last time we went away on a trip, Elizabeth packed her own suitcase using her own packing list.
She's clearly my child, because as soon as we mentioned that we were going on another trip she wanted to make a new list. My folks like to tell people that my lists used to contain items such as "Bug David" (my long-suffering brother). I'm happy to report that this sort of thing didn't occur to Elizabeth, though she did decide that I should write her list and she should write mine.
Throughout the whole week leading up to our departure, she'd ask me what I wanted to bring and then very professionally "write" down my answer. This was a bit tricky after a while as I didn't want to get creative lest she decide she needed to pack those things too! By the end of the week I probably had about six pairs of pjs and eighteen shirts on the list! She was worried we'd mix up the lists, so I titled hers and she titled mine. "Mom" is her second legible word, though she does have a tendency to write it as OMM if left to her own devices.
You might also like
- Strawberry picking
(0.374286)
- Decision making study
(0.364417)
- River Oak
(0.357326)
- Water Baby
(0.354762)
- Tree
(0.353904)
All