April 6, 2012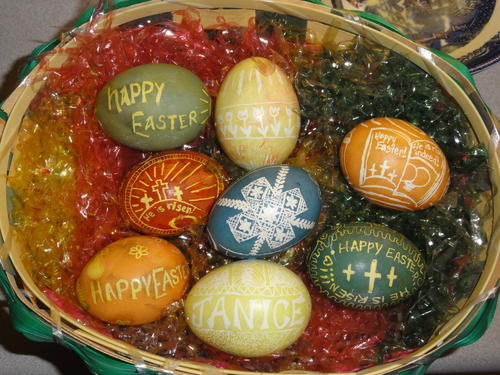 We attended the footwashing service Thursday evening. We didn't leave the house until bedtime but Elizabeth was exceptionally well-behaved, sitting in near silence for the better part of two hours. She was interested by the footwashing, but absolutely spellbound by the stripping of the altar in the dark.
We'd asked her to be "quiet like a mouse" until we got out of church. Everyone was very amused when she burst out with "Mommy can I talk NOW?" the second she put one foot out of the church proper (Daddy made her wait until we got onto the sidewalk outside). We didn't get to bed until 10pm.
Friday we were back at church at 10am. Elizabeth was maybe a touch less attentive than usual, but surprisingly chipper given the late night the day before. She drew a very elaborate (and secret) picture of "something she's been naughty about" on flash paper and was very surprised by the impressive fireball generated by the whole pile of written sins.
After the service Erika, Maria, Kira, Sosuke, Josie, Daniel and respective parents all joined Elizabeth in egg decorating. The kids used food colouring and made googley-eyed chicken eggs. The adults drew wax patterns and used our normal cabbage/tumeric/onion skin dyes. We experimented with a few new techniques, covering the eggs with lace and silk dye transfer. Unfortunately our silk didn't make much of a pattern on the egg (it apparently depends on the ink used). I even tried Chinese tea eggs with some of the cracked eggs. They were delicious, though not quite as pretty as promised. We usually make empty tomb cookies on Good Friday to open on Saturday, but we opted for Resurrection Rolls instead so that the other kids could see the end result.
Then we went to Grandma and Grandpa J's for palatschinken. Bed at 10pm again!
1
On April 19, 2012 at 05:36 pm
Grandpa H
said:
What a wonderful celebration, we wish we could have shared it with you. And we wouldn't have had to sneak out of church at 2:30 AM on Easter morning ;)
You might also like
- Good Friday 2015
(0.440613)
- Good Friday
(0.415166)
- Happy Easter!
(0.395085)
- Virtual School: Week 37
(0.393567)
- Sad bunny story
(0.391343)
All