April 23, 2012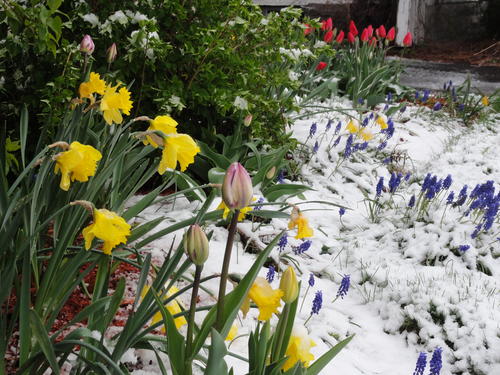 There was snow in the forecast, but somehow I just didn't expect this much! Elizabeth was thrilled and immediately wanted to go out and play in it. She was disappointed that there wasn't enough for sledding, but I pointed out that the flowers wouldn't like that! She was also disappointed to find that the canal was still full of water. She had apparently been hoping she could go skating again! I guess I'd better see if I can still find a public skate somewhere.
Even though the snow changed to rain by the time we got outside, we wandered far enough to check out the snowy tulips at Commissioner's Park. Apparently the early tulips were all "fully in bloom", so I was worried I was missing out. But while the media reports made it sound like things were practically at their peak, it's actually very early yet and the snowy and cold forecast will probably delay things further.
The snow was all gone by the end of the day. "Don't worry Momma" said Elizabeth. "It will come back again soon!"
1
On May 1, 2012 at 04:58 pm
Rachel @ Grasping for Objectivity
said:
That's amazing!! It's 90 degrees here! It's really quite beautiful - I'd love to have some snow!
You might also like
- 12 Days of Christmas: New Year's Eve
(0.366083)
- Mommy dear, I NEED to see the cows
(0.364458)
- On the canal
(0.36294)
- First snow!
(0.361582)
- Terrible Horrible
(0.361264)
All