May 6, 2012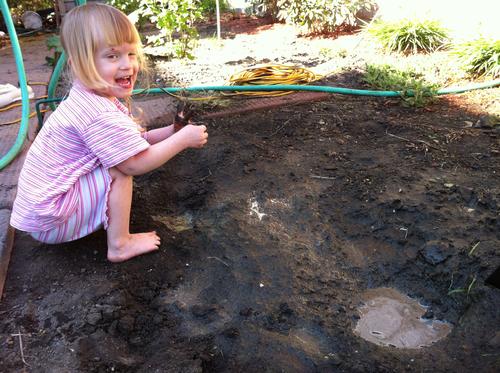 Proving that she's all better now, Elizabeth spent much of the day outside helping Mommy and Daddy build new raised garden beds.
She quickly got distracted by the hose and dirt. I neglected to get a photo of the finished product - these are relatively early in the process. She made a "sink", frying pan, muffins and many, many mud pies before settling down to "paint" her arms. "These are my new sleeves", she said.
I ended up hosing her off, clothes and all. Then I stood her in the sunshine to dry off a bit.
1
On May 17, 2012 at 02:37 pm
Grandma H.
said:
"nobody but the rosebush knows how good mud feels between the toes"
You might also like
- A visit from Godmother Rachel
(0.293103)
- Lil helpers
(0.282986)
- Spring
(0.279492)
- I'm not sleepy
(0.278547)
- Splash pad
(0.27821)
All