May 7, 2012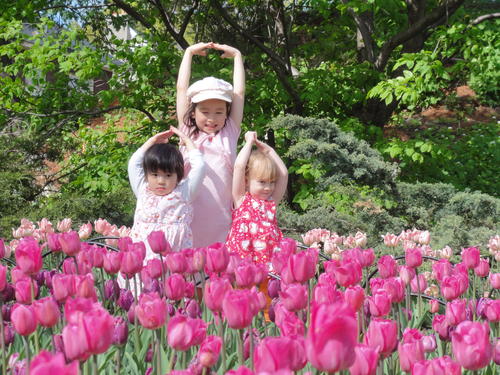 Elizabeth biked 1.3 km to Bronson and Queen Elizabeth Drive. Then she mostly ran back with cousins Erika and Maria.
The girls demanded to have their photos taken in front of every other bed of tulips, so it took us a while to walk home. Then they discovered a number of "tree forts" and Erika announced she wanted to sleep there. Thank goodness we had some snacks available for distraction purposes!
When I'm taking pictures I usually ask them lots of silly questions in a vain attempt to get some more natural expressions. Elizabeth almost always says whatever Erika does, as does Maria. Yukiko and I had trouble keeping a straight face with all the echoing going on!
1
On May 21, 2012 at 01:29 pm
Grandpa H
said:
An idyllic childhood... or idyllic parenthood... or both... :)
You might also like
- Kid Math
(0.340946)
- Bikes
(0.320205)
- Dying our countertop
(0.318903)
- Tulips
(0.317965)
- Summer bucket list: Survival Day
(0.310789)
All