May 11, 2012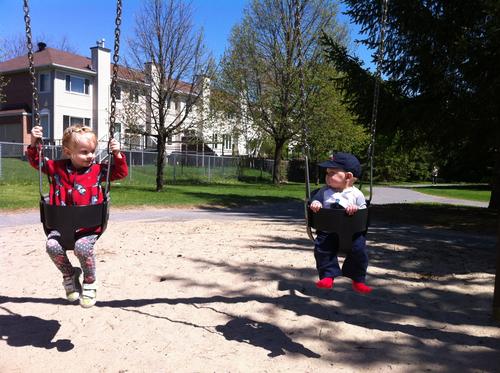 Elizabeth and I biked to the park while visiting Auntie Karen and Xander. Elizabeth's started to ask who she can give her stroller to, "now that she doesn't need it anymore". Three is apparently an age of whiplash between baby Elizabeth and Big Girl Elizabeth. Actually, we usually have two "children", just one is invisible. Big Girl "Lizabef" can buckle herself into the carseat, but often morphs into baby "Eliani Jake" who needs a baby toy and soother (pretend ones are acceptable). After all, big Elizabeth is obviously sitting on the booster seat. Pointing out that six year old neighbour Noemi still uses the exact same carseat we do has had no effect. When we reach our destination, the baby stays in the car, but the Big Girl climbs out. Babies don't ride bikes...
Xander and Elizabeth rode on the teeter-totter together and the swings. It was apparently Xander's first time on the teeter-totter. Elizabeth was pretty tired because napping doesn't always fit into her busy schedule. Sometimes she completely refuses to take one, and other times she is begging to be "'llowed to nap wite, wite NOW Momma!" It got harder to ride the bike when she had to stop to rub her eyes, but she managed to make it all the way back to Xander's without mishap.
1
On May 17, 2012 at 02:43 pm
Grandma H.
said:
So cute, especially the teeter-totter one.
2
On May 21, 2012 at 01:33 pm
Grandpa H
said:
Elizabeth, it's probably not wise to operate a vehicle, even a bicycle, when you are intoxicated with sleepiness...



When you are very grown up, if you like you can write a Ph.D. thesis in child psychology based on your dual identities. Or maybe a children's novel instead.
You might also like
- About the boy
(0.359916)
- Kid Math
(0.355811)
- French Class
(0.345725)
- Happy Hearts: Clothes
(0.344706)
- The unsuspecting sleeping baby...
(0.344697)
All