May 19, 2012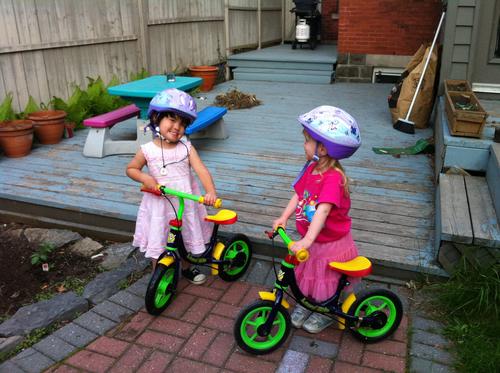 We had a weekend full of family as Maria turned THREE and Xander was presented for dedication at church. The observant will notice that somehow Erika never turned six last month. I didn't have my camera, but the event definitely happened. Elizabeth declared birthday parties lots of fun, though somewhat wistfully observed that she likes it best when she gets to blow out the candles.
At Maria's party:
All the kids (except Josie and Xander) had a turn climbing into the balance bike box.
Xander was picking through Uncle Dave's hair like a monkey.
Maria hid under the table at picture time (but I caught her anyway)
Maria blew out her candles as soon as the cake came within range (we weren't even done singing Happy Birthday yet!). This was AFTER she had to be persuaded to come out of hiding under the table...
Elizabeth and Maria now have matching bikes and helmets. I believe Elizabeth even refrained from spilling the surprise, though it was very "twicky". Look out world!
1
On May 29, 2012 at 06:46 am
Grandma H.
said:
Happy birthday to dear Maria. Great pictures of family, but especially of the girls biking. Amazing that Elizabeth could keep the surprise--she must have nearly burst.



Dave always wanted a monkey! This is the best kind.
2
On May 29, 2012 at 07:31 am
Uncle Dave
said:
It's true!
You might also like
- Wedding prep
(0.377254)
- Buskerfest and cousins
(0.367742)
- Thanksgiving
(0.363136)
- A zoo party
(0.361257)
- Christmas
(0.360046)
All