May 21, 2012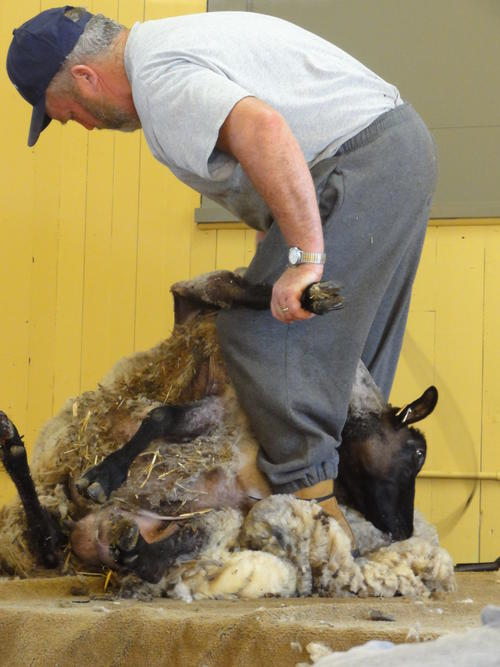 I read somewhere that the Agriculture Museum's "Sheep Shearing Fest" is proof that there really is a festival for everything here in Ottawa.
Elizabeth's seen a sheep being shorn before with Daddy, but this was the first time we made it to the festival. I thought the sheep were remarkably well behaved during their haircuts. It looks very uncomfortable. Elizabeth helped card and felt wool into a bracelet. We also got to watch the sheep dogs in action. Some were much better than others (age, training), which I thought added a level of interest and amusement. My favourite was the brown dog that brought her toy around the course and then splooshed into the wading pool at the end. Did I mention it was pretty hot? After watching the sheep dogs, Elizabeth immediately declared her intent to set up an obstacle course in the backyard. She's spent many hours since happily woofing her way around the backyard. Through the playhouse window, 'round the sandbox, under the slide, over the teeter totter, through the pylons, up the stairs and down the slide...
The sheep herding was also really interesting. The shepherd had three dogs of varying levels of competence and demonstrated how they train them. Younger dogs need the shepherd to guide them with flags, while staying in front of the sheep. Trained dogs can just herd the sheep without the shepherd with only the sound of whisles. The shepherd was rather apologetic because the sheep were tired of being herded over and over again and therefore not as cooperative as normal. I would have gotten frustrated too, but the dogs guided the sheep rather impressively around the paddock to my inexpert eye!
1
On May 30, 2012 at 05:34 pm
Grandma H.
said:
What fun! A better trained Little Bo Peep.
You might also like
- Matthew's first skating class
(0.404812)
- Fancy hotel
(0.392774)
- Sheep Shearing
(0.391677)
- Earth Day
(0.38985)
- Spartan Race
(0.389002)
All