May 25, 2012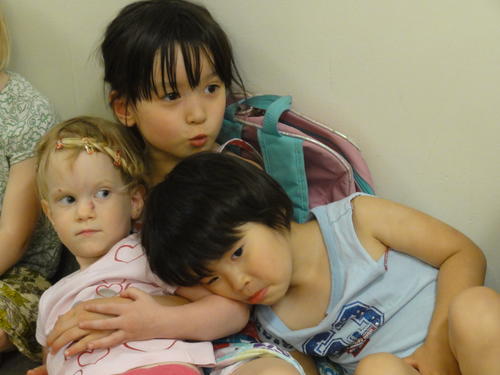 Elizabeth and I went to Erika's kindergarten concert, along with Uncle Chris, Auntie Yukiko, Maria and Grandpa.
We were treated to a gym class demo before the concert. The adults found it quite interesting and a good demonstration of the teacher's ability to maintain discipline of the class, but the little kids were increasingly put out about not getting a turn. "Where's the line, Momma?" asked Elizabeth. "I want to stand in it!"
The concert was less formal than last year's but very cute. Erika was especially proud of being chosen as one of three to remind her peers of the appropriate actions. The little girls both followed along too in the audience. It was adorable. I, of course, captured the entire thing on video and it will be duly inflicted on those who were unable to attend...
You might also like
- Science is fun
(0.347889)
- Christmas Village
(0.343109)
- River Oak
(0.337802)
- Cousin Camp: Beach day
(0.336052)
- Farewells
(0.33581)
All