June 12, 2012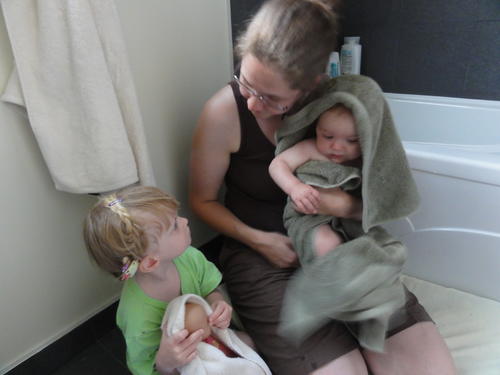 Xander invited Elizabeth over to paddle in his wading pool yesterday while Daddy helped Uncle Dave fish electrical wires into the kitchen. There was much splashing and a very tiny amount of actually sitting in the pool.
Elizabeth likes the idea of paddling in the pool but not the getting wet part! She is now campaigning for a swing in our backyard "like Xander".
Auntie Karen invited Elizabeth to help bathe Xander. Elizabeth brought along Nora and they bathed their babies together. Xander wanted to help Elizabeth bathe Nora, but Elizabeth did not appreciate his technique. There were appeals to the other moms in the room to "please make Xander stop eating my baby!!!"
Elizabeth fell asleep in the car on the way home. She was surprised to wake up in bed the next morning still wearing her clothes and braids. She was so tickled with not having to get dressed that I actually let her wear the same clothes for 48 hours, chocolate stains and all.
1
On July 1, 2012 at 02:16 pm
Grandpa H
said:
Beyond cute!
You might also like
- A visit from Godmother Rachel
(0.361281)
- Smiley Face Pancakes
(0.352941)
- Cousins
(0.347084)
- Wedding prep
(0.345938)
- 2 weeks old
(0.345697)
All