June 2, 2012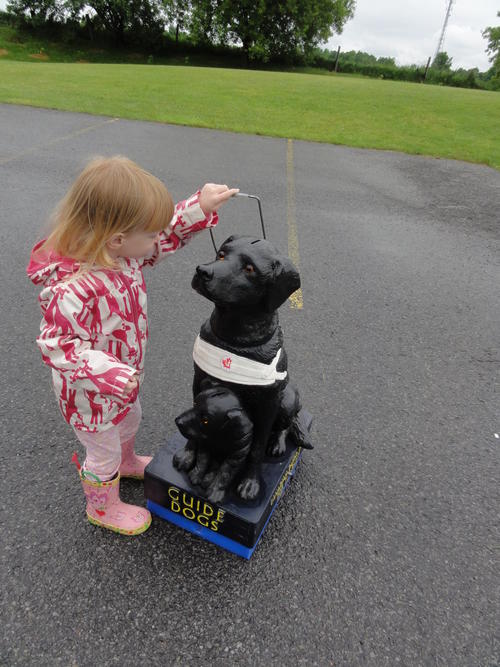 Doors Open Ottawa fell on our eleventh wedding anniversary, so while we indulged in chocolate waffles (Pinterest made me do it) we spent the bulk of the day touring neat Ottawa buildings.
Our first stop was the Canadian Guide Dogs for the Blind. There were dogs. At first it was terrifying and Elizabeth wanted to be carried. Then it became merely concerning. By the end of the tour, Elizabeth actually patted a dog. Maybe the first time she's ever touched one?
We got to tour the kennels. The dogs are highly trained. They sleep on special raised dog beds because they are never allowed on furniture. They never receive treats aside from a little extra kibble (their ordinary food). They aren't allowed to play fetch. They are trained not to bark. Elizabeth was particularly interested to know where the dogs went to the bathroom. Turns out that they are trained to go on command. I guess the office wouldn't be too happy if the service dog had an "accident" inside, and since the dogs are working, they can't be the ones in charge of the toilet schedule. Dog owners: this means that your dog doesn't have to pee on my lawn! They can be trained to go on yours!
Anyway, keeping the people firmly in charge of the dogs clearly works - these were the most well behaved dogs I have ever seen. The only barking we heard were from dogs that were in a separate area and apparently just arrived.
After touring the kennels, we watched a demonstration by a "guide dog mobility instructor" with dogs at various levels of training. The dogs train for two years before they get matched to a human, and then they spend another four weeks at the facility training together. We got a tour of the training facility too! At first the dogs work without the harness. Aside from learning that guide dogs pee on command, the most interesting thing I learned was that because dogs are colour blind, they don't decide when to cross at a traffic light. The human students have to listen for traffic and decide when it is safe. I had been interested in the puppy walking program, but was disappointed to discover that it's not as short as I had thought. I was thinking that having a dog for a few months would be fun, but a year or more is a longer commitment than we could make right now. Of course, it turns out that Elizabeth is apparently allergic to dogs so maybe that wouldn't work out anyway.
After the dogs, Elizabeth was so keen to visit more places that she initially refused lunch. Then we reminded her we were eating at a restaurant and she quickly capitulated. Apparently restaurants equal chocolate milk and are therefore popular. In a vain attempt to convince her that we don't just eat at Swiss Chalet, we ate at Kelsey's instead, but turns out the kid's menus are remarkably similar! The gluten free menu told me I could eat potato skins, but they use the same oil for breaded products. Luckily the manager was on the ball and they managed to avoid poisoning me.
After the restaurant we headed to the OC Transpo train yards to check out the O-Train. Elizabeth got to drive! The O-train is our local 7.8km line. It makes four stops and runs the entire route in about twelve minutes. When the train is going 64km/hour, it takes 130 m to stop. The maximum speed they've ever recorded was 85km/hour, but strangely they have no idea what their average speed is. I was a little surprised to discover that driving the train was as simple as pushing a lever forward or backwards, with one twist. Apparently there is a computerized system that requires the driver to make certain random motions (tapping a particular pedal, or pushing a button) in order to prove that they haven't died. We can't quite remember how often this was, but it was at least every couple of minutes and possibly as often as every thirty seconds. Also, I hope our LRT trains come from somewhere closer than Germany, because as the engineer giving the presentation pointed out, getting parts takes a long time when you have to send them by ship. They apparently frequently cannibalize the spare train for parts and then hope nothing else breaks!
After the O-Train, Elizabeth wanted to see the buses again. I was easily convinced. I think car washes are pretty exciting - I'm not sure if it's the swishy soap on the windows or the possibility of disaster (get my dad to tell you about that time he unrolled his windows) but in any case sitting through a bus wash is definitely my idea of entertainment! I also heard that there was going to be a Presto demo. Presto is the new bus pass / ticket system. Basically you can fill your card online or at a kiosk and then tap it on the bus. You can share a bus pass among multiple people. I'm excited about Presto because I find getting tickets super painful, so the idea of being able to refill is good. Having to wait 24 hours before your money is available is annoying though at least you can make one negative trip.
Quite a number of people I know are annoyed about having to trade privacy (tickets) for lower rates (Presto card). This is actually not necessarily the case. OC Transpo won't have access to the Presto accounts - so they won't know names, credit cards or addresses. And if you don't want to give that information to Presto either, you do not need to register your card. In that case you cannot refill the card online, nor can you transfer your balance to a new card in the case of theft or loss, but your card would be totally anonymous.
A few days after Doors Open Ottawa, the program start date was delayed due to problems tapping the card. I actually witnessed those problems first hand. The Presto "ambassadors" had a stack of about fifty cards that they were tapping to show me various things. They kept switching cards because it wasn't doing the right thing, but at the time explained it as being a symptom of having been "used" for previous demo. Yeah, right!
1
On June 18, 2012 at 09:01 pm
Mary @ Parenthood
said:
I asked Elizabeth to tell me about Doors Open Ottawa and this is what she said: "To a doggy we saw other things. Protein and doggies. Lots of doggies. The doggies were chasing balls in the garden. I patted the white dog.



The doggy's special job was not chasing rabbits or sleeping. It was helping ladies who can't see!"



This is classic Elizabeth. Please note there was no protein or ball chasing, that's just our daughter being silly. Sigh.
2
On June 19, 2012 at 05:53 am
Grandma H.
said:
I suppose this is the potty fixation stage? Eek, Elizabeth driving the O-train!
3
On June 19, 2012 at 04:57 pm
Grandpa H
said:
parts from Germany... coming by ship... cannibalizing... (implying that they don't have an appropriate stock of spares) - I thought that only here in Angola we had to live with those kind of problems!



I deny ever rolling down the windows in a car wash, other than perhaps briefly (when the water wasn't spraying) to impress my daughter... ;)
4
On June 26, 2012 at 04:23 pm
Grandma H.
said:
Ha, ha, time is a great healer. O yes, the electric window opened wide during the car wash, though that was not the intention. Not mentioning any names.
You might also like
- Doors Open Ottawa 2009 - Traffic Operations
(0.497031)
- Back to (virtual) school
(0.492958)
- The Tree Story
(0.492695)
- Homeschool wk may 4-may 8
(0.491087)
- H1N1 Rock Concert
(0.487628)
All