June 4, 2012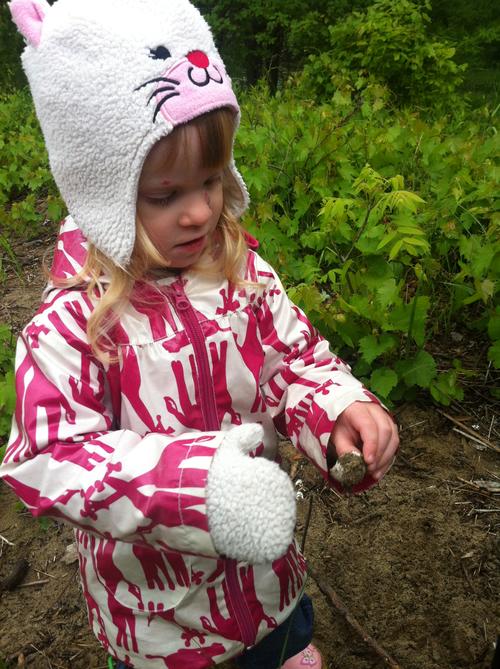 We've joined a local homeschooling association this year since we are not sending Elizabeth to preschool and in order to get a better sense of what resources are available in Ottawa.
One of the members organized a series of field trips to Petrie Island. The first week was turtle week. Unfortunately cold and rainy, Elizabeth couldn't spot the solitary turtle basking across the pond. "That's okay", she said. "I got TWO turtles at home". The nature hike was pretty interesting. We're learning to identify different kinds of plants right now. Can you guess which plant Mommy thought Elizabeth needs to learn about first? In order to avoid accidents...
At turtle beach, Elizabeth got to collect turtle egg shells that had been eaten by raccoons and other predators. "Tsk, tsk, tsk" said Elizabeth. "Wacoons sure are pesky animals". Afterwards she made a turtle craft.
Seeing the heron was by far her favourite part of the field trip, though she wanted me to make the bird fly next to her again and was a little perturbed that my superpowers don't extend to bird whispering. I told her that it was probably frightened of her. She was rather indignant at the idea. "I am NOT scary, Momma."
1
On June 19, 2012 at 05:48 am
Grandma H.
said:
No, Elizabeth is not scary. But very funny! Do you think she can really identify poison ivy now?
You might also like
- Dovercourt
(0.370717)
- Circus Camp (and another Gymnastics show)
(0.359539)
- Virtual School: Week 39
(0.355835)
- First Day of School
(0.3543)
- Plasma Car
(0.353698)
All