June 23, 2012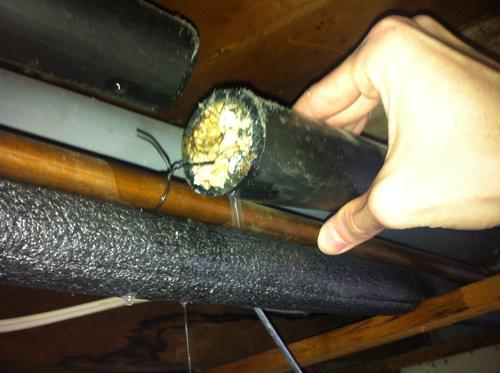 We had planned to go to CHEO's Teddy Bear picnic today, and maybe even cheer Grandma J on at the Dragon boat festival.
Unfortunately our plumbing had other ideas. Six feet of total blockage meant that our kitchen sinks went from slow-draining to no-draining. Luckily, Daddy is an extremely competent plumber, albeit a sometimes reluctant one. The root cause of the blockage was a Y-junction accidentally installed backwards (whoops!) connected to a pipe with a slight low spot, which he'd been hemming and hawing about fixing for a number of years. With the proper incentive it took no time at all to whip out the hacksaw and remove the offending pieces of pipe. We spent the rest of the afternoon flushing out debris with very hot water. Mommy got to unplug many sinks, burning her hand every time. Daddy caught the goopy water in a garbage can, while avoiding as much spray as possible. Then he had to carefully take the contents all the way across the basement for disposal down the toilet. It's his favourite kind of exercise program: renovation-style. It didn't take long for the whole basement to reek of rotting vegetables and turtle poo.
Elizabeth was pretty happy because we got to visit her favourite orange hardware store. But she refused to give hero Daddy a hug or kiss until AFTER he showered, and I can't say that I blamed her one bit.
You might also like
- 22 months: Little Helper
(0.373574)
- Virtual School: Week 34
(0.366502)
- Racoon proofing
(0.364522)
- Homeschool wk may 19-22
(0.363289)
- Niagara (aka water falling on Bapa's nose)
(0.362637)
All