June 25, 2012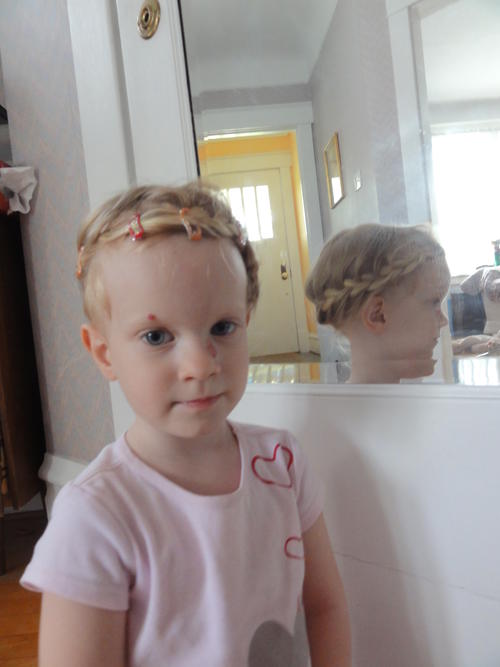 It started at French class. Emmanuelle had rainbows in her hair and Elizabeth wanted some too. It looked easy enough. Elizabeth sat still! She loved the results. Then Elizabeth started demanding more and more elaborate hairdos. We may have been slightly willing to indulge.
She wanted a necklace on her head, so I learned to french braid all around her head. I saw a picture of a heart on Pinterest and tried to replicate it. Then Janice got interested. She'd seen a few interesting things on youtube. Like how to curl hair without a curling iron using the magic of socks! Or how to make a pancake braid. Flowers! Waterfalls! English braids!
Be afraid... Be very very afraid...
1
On July 11, 2012 at 03:57 pm
Rachel @ Grasping for Objectivity
said:
Wow, wow, WOW!! That French Braid around the head is magnificent. I can't even do a NORMAL French Braid! I really want to be more creative with hair (especially since both of ours is so long) but I stink at it. Perhaps you could come give me lessons?
2
On July 11, 2012 at 05:51 pm
Grandma H.
said:
Amazing! Come do my hair, too.
3
On August 5, 2012 at 04:53 pm
Muriel H.
said:
Impressive!!- What goes around comes around!--you need to look up some old photos of Grandma (Blanche) Henderson to see braided hair a la the 1940's
You might also like
- Fort Magic
(0.321357)
- Elizabeth cuts her hair
(0.319018)
- Melting
(0.317684)
- Wedding prep
(0.311278)
- First day of Maternelle
(0.309791)
All