July 1, 2012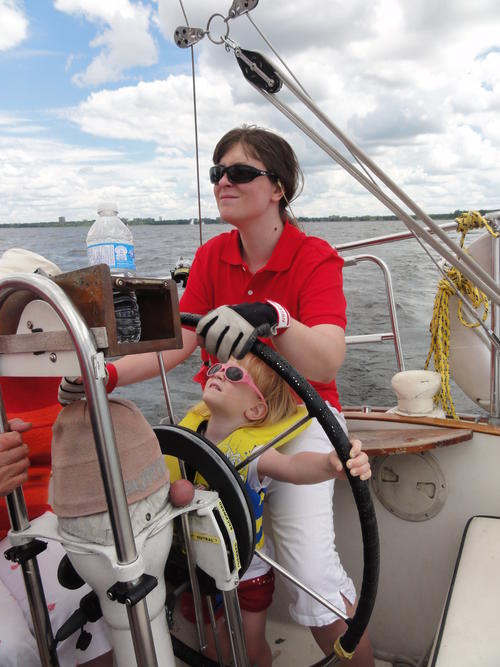 It was my birthday, and although we couldn't figure out a way to watch the fireworks without compromising bedtime it was still a wonderful day.
After church we headed to the sailing club for our annual family "fun" race with Mike, generous owner of Kokopelli! It was Xander's first time on the boat. He strenously objected to his lifejacket but eventually got over it. Both Xander and Elizabeth got to "drive" the boat.
The race itself is rather silly because the race committee gets all the boats to do ridiculous things. We had to do a 360 and Uncle Dave lent his shirt to use as a flag. Unfortunately we kind of neglected to get to the start line on time, so we were late crossing the line. This meant the race committee allowed us to take a shortcut in the hopes that we might catch up (this is a very unusual race!). But I misunderstood the instructions and instead sailed halfway across the lake. We had fun even if we did come in last. Elizabeth is a natural sailor, holding herself onto the boat with a grin despite fairly significant heeling. I got her to hold the odd lazy line. She evidently felt very grown up! I got to drive Koko into the harbour and park the boat for the first time. I was super nervous as it was kind of windy, especially near the narrow harbour entrance but apparently I've learned something from Mike as I managed without any problem.
After Auntie Janice got home from work, we had jello and two cakes for the second year in a row. Apparently Janice thought her cake might not turn out so she asked Grandma J to bring a backup cake. We weren't complaining... The red currants are from my garden!
You might also like
- Mary Day
(0.415596)
- End of an Era
(0.396552)
- Niagara (aka water falling on Bapa's nose)
(0.393154)
- Carp Fair
(0.390909)
- Race weekend 2017
(0.390658)
All