August 1, 2012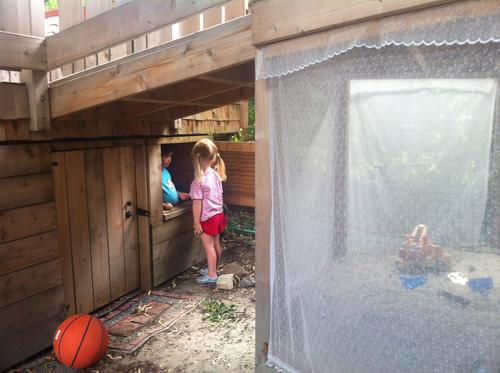 We had Maria for the day. Elizabeth and Maria spent a long, long time playing "store" in the playhouse. They exchanged money and "ceets" (receipts) very professionally.
Then Xander came to visit, right when the girls were inclined to be tired of "just" playing. They were very happy to "look after Xander"
Karen got the girls to pretend to be animals so we had a lot of galloping, slithering and heffalumping up and down the deck while Xander watched perplexedly.
1
On September 6, 2012 at 10:05 pm
Rachel @ Grasping for Objectivity
said:
That's awesome! We've never done receipts - what a great add-on to playing store!
You might also like
- First Grading for Erika and Maria
(0.313283)
- Cherry Picking
(0.303571)
- Park with Xander
(0.295238)
- Cherry Picking
(0.294906)
- Hi Uncle Mark
(0.291667)
All