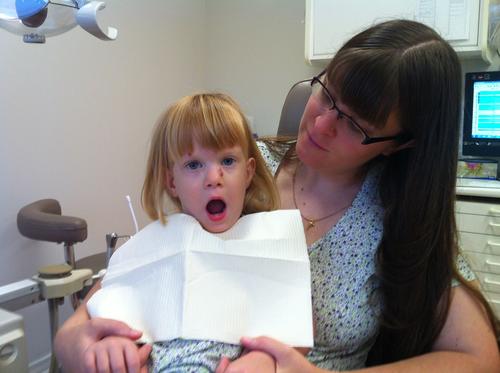 Elizabeth had her first "official" dentist appointment on July 26th. She's been a few times with mom and dad, but this time she had her own time slot and everything.
Unfortunately the dentist moved unexpectedly (without letting us know), so the appointment got off to a rocky start when we couldn't find him! Then Elizabeth didn't have time to adjust to the idea that everything at the dentist was new and shiny and different.
Usually she's extremely cooperative about opening her mouth, but she was not at all excited this time. Eventually she let the dentist have a look and her teeth were pronounced in good shape.
We were happy to hear this. Cavities are largely preventable but nearly 1 in 4 children will still experience an average of 2.5 cavities between the ages of 6 and 11 (from the Canadian Health Measures Survey done by Health Canada). I find that shockingly high, although it seems quite accurate based on anecdotal evidence from the various children we know. In fact, Elizabeth has at least half a dozen friends who have had thousands of dollars of dental work by the age of six, including having so many cavities they had to be dealt with under general anesthetic, baby "root canals" and teeth pulled out altogether. I was surprised to learn that most of these parents did not allow their children to eat candy or drink pop - apparently the dentists felt the cavities were caused by parents being unaware that they needed to help their child brush and floss in combination with sticky sweet food (especially dried fruit) and too much juice.
So that's why Elizabeth gets to put up with her parents flossing and brushing for her, in addition to doing it by herself once first!