September 1, 2012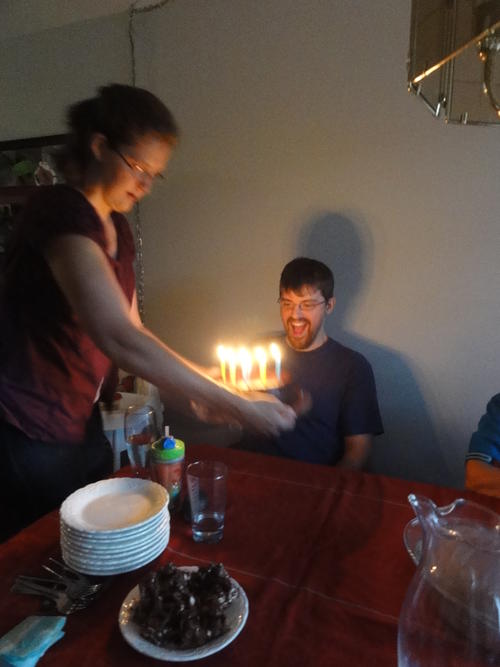 We finally got around to celebrating Uncle Dave's birthday. Elizabeth was super excited because Xander has a paddling pool in his backyard. So she asked nicely if she could bring her swimsuit and Uncle Dave even warmed up the water for her.
Xander went swimming too. Then Uncle Dave and later Erika and Maria. Elizabeth had said she was only going for a short swim but she ended up staying in the water longer than anyone for once! I don't think there's any photographic evidence, but Grandma J and Auntie Janice were there - Chris and Yukiko had a concert in Gananoque so they missed out on the lovely supper. Sausages, ribs, corn, chocolate marshmallow peanut butter squares that I really need the recipe for and Dave's traditional "Death by Chocolate" birthday cake. Elizabeth was very relieved to see there were sufficient candles - it's apparently not a real party unless someone is blowing some candles out!
The girls decided they should play with Xander by pretending they were all babies too. They played follow the leader on all fours, with Xander being the leader, of course!
You might also like
- Orange swimsuit please
(0.385027)
- Erika is FIVE
(0.382318)
- A zoo party
(0.378205)
- Christmas
(0.373864)
- Old fashioned family day
(0.372525)
All