October 3, 2012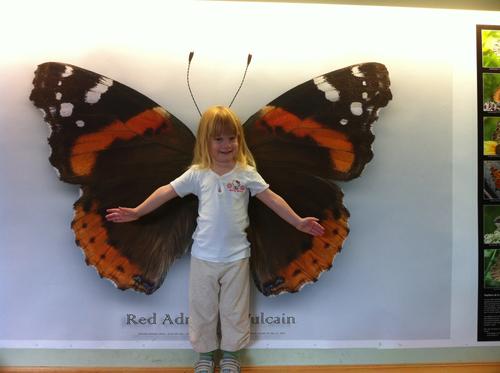 We went to see Carleton's annual butterfly show, but chose a weekday in the vain hopes of avoiding standing in line for several hours.
It more or less worked, although it was still pretty crowded in the actual greenhouse, mostly due to a school trip. It could have been worse though - we managed to arrive just after a large daycare left and left as another two bus loads of students arrived!
Auntie Karen had never seen the butterflies before and was duly impressed. Elizabeth was okay for the first thirty seconds. Then a large butterfly landed on her leg. She didn't notice and kept walking, crushing one part of a wing slightly between her legs. I of course begged her to stop moving right away. She *freaked*. I ended up getting it off her without too much further damage to the butterfly but Elizabeth was hysterical. There were crowds of young teens around us that clearly did not care about much other than getting to hold a butterfly, so no sooner than I got the poor thing off Elizabeth and into a safe place than they grabbed it. In the ensuing tug of war between two of the tweens, the butterfly ended up on the floor, under a large piece of orange. It did survive but it was all rather horrible and intense. I think those butterflies lead a short, brutal life...
Anyway, Elizabeth did calm down and we managed to enjoy our visit in the end.
1
On November 15, 2012 at 02:52 pm
Grandpa H
said:
There is no jungle so brutal as the human jungle!
You might also like
- Butterflies 2013
(0.392435)
- Senior Kindergarden
(0.385836)
- Camp Otonabee
(0.38191)
- Butterflies 2017
(0.379974)
- End of an Era
(0.375862)
All