October 26, 2012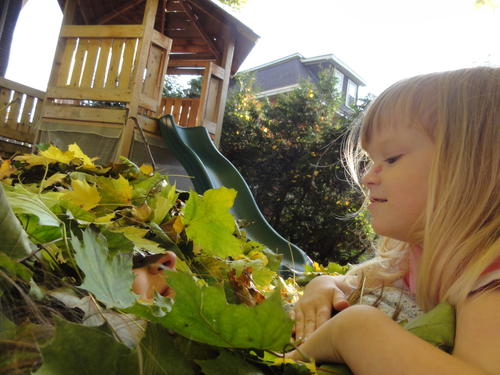 We only have three trees on our property, but they drop many, many, many leaves in the fall. We collected between 35 and 40 extremely compressed cans / bags full this year, with the large Norwegian maple in the corner of our backyard is responsible for most of them. I filled about 20 cans and bags as part of the first raking session, but as Elizabeth pointed out, by the next day you really couldn't tell that anyone had done ANY raking at all because so many new leaves had fallen down.
The truly frightening part is that the tree canopy is rather mutilated. Between Ottawa Hydro trimming it away from the power lines and our neighbours removing the parts overhanging their property, there's probably about two thirds of the canopy missing!
In any event, it turns out that Elizabeth really enjoys raking (or "braking", as she puts it). She also enjoyed jumping, burrowing and hiding in the leaves in between being useful. The neighbours helped us rake our front yard so that their kids could jump in a leaf pile too - they asked permission to help us rake first - I think everyone should be blessed with awesome neighbours like ours!
Alex showed Elizabeth how to climb from can to can to better compress the leaves and leave space for more - it was great fun! Now that the leaves are down, Elizabeth is anxiously waiting for snow. Mom and Dad DID say that snow comes after the leaves have fallen, and she can't understand why it is taking soooo long to come....
1
On December 3, 2012 at 05:43 am
Grandpa H
said:
We're sure you'll get your fill of snow before too long!
You might also like
- Mooney's Bay
(0.382449)
- Climbing dome
(0.380668)
- Halloween
(0.378499)
- Elizabeth's 9th birthday party
(0.376768)
- Erika, teenage edition
(0.375431)
All