December 6, 2012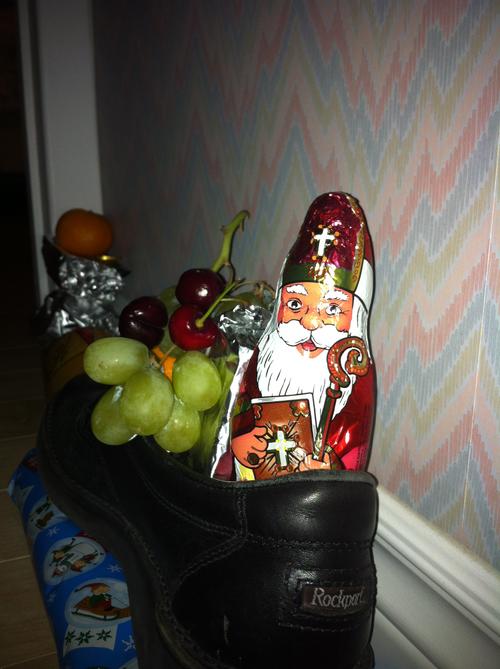 I grew up in Belgium where it is customary to put your shoe out for St. Nicholas on the evening of December 5th, rather than hanging a stocking Christmas eve. Of course, being Canadian we actually did both!
When we moved back to Canada my parents suggested that maybe we could drop this tradition but for whatever reason I'm much more attached to St Nicholas day than stockings so I was having none of it.
We decided not to "do" Santa with Elizabeth (she knows he's a pretend story and loves helping fill the stockings), but we left St Nicholas a little more ambiguous. We even encourage the tradition among the cousins and I was quite gratified to hear that Erika put her shoe out without reminding this year!
Auntie Janice can't have the traditional marzipan, so I experimented with nut-free marzipan alternatives. The bird looked pretty good anyway and since Janice ate him I think it was successful enough that I'll make some for Uncle Dave too next year. I couldn't find a gluten-free St Nicholas at all. In fact we had to make a thirty minute drive out to Manotick Station to locate St Nicholas figures in the first place so I resigned myself to a lack of chocolate. Imagine my surprise to find a homemade version in my shoe! Janice encased gluten-free brownies in semi-sweet chocolate - YUM!
Elizabeth's been attending a bilingual program Monday mornings the last couple of months and I guess they've talked about "le père noël" in class a fair bit. I was a little chagrined that despite my rather extreme efforts to obtain chocolate St Nicholas bishops (NOT santas!) she still seems to have the two mixed up, telling everyone that "Ay Noel" visited her house. She's even waved at him a couple of times at the mall in the distance... Interestingly, she doesn't seem to associate "Santa" with St. Nicholas, just "Ay Noel".
Anyway, Elizabeth was pretty excited about St Nicholas visiting, but she was a little concerned too. How would he open the door? (A key, said Auntie Janice). Would Mommy and Daddy come to bed a little early for company, just in case? Would Mommy close Elizabeth's bedroom door please ? This was a very unusual request - I guess she was nervous about a stranger visiting her in the night!
1
On December 20, 2012 at 01:36 am
Grandpa H
said:
What a sweet sister to make a gluten-free St. Nicholas for you - Parabéns Janice! And it's good for Elizabeth to be a tad nervous about strange nocturnal visitors :)
You might also like
- Homeschool wk may 11-15
(0.425107)
- Family Day
(0.42185)
- 18 Months
(0.42097)
- St. Nicholas
(0.420904)
- Crazy Pickles
(0.420777)
All