December 10, 2012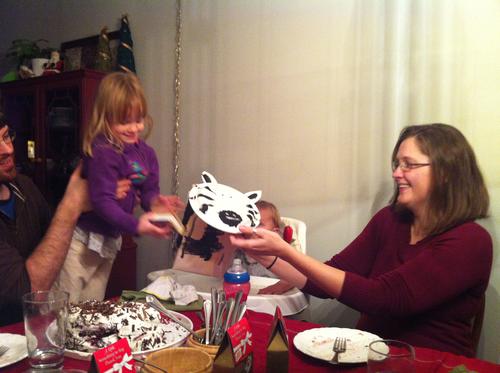 Another birthday, another animal-inspired wrapping job :) The best part is that it's a craft that Elizabeth is keen to give away (our walls are otherwise rather full of "art"!)
Xander wanted to help me make Karen's raspberry flavoured black forest cake, so I gave him a spatula to lick. He doesn't quite have the eye-mouth coordination to do so by himself yet... Wish I had a video of him sticking out his tongue into empty air while spreading cream on his forehead.
Elizabeth was in raptures over having Swiss Chalet (delivered at home, no less).
Just for fun I've also put some photos we took of the various animal wrappings earlier this fall, since I didn't post them yet!
1
On December 29, 2012 at 05:03 am
Grandpa H
said:
I'm not sure we are up to the complex creative present wrapping!
You might also like
- Eighteen Months
(0.330081)
- Artissimo
(0.319213)
- Simon is One
(0.314476)
- Muriel and Pat come to visit
(0.311573)
- Orange swimsuit please
(0.311522)
All