December 22, 2012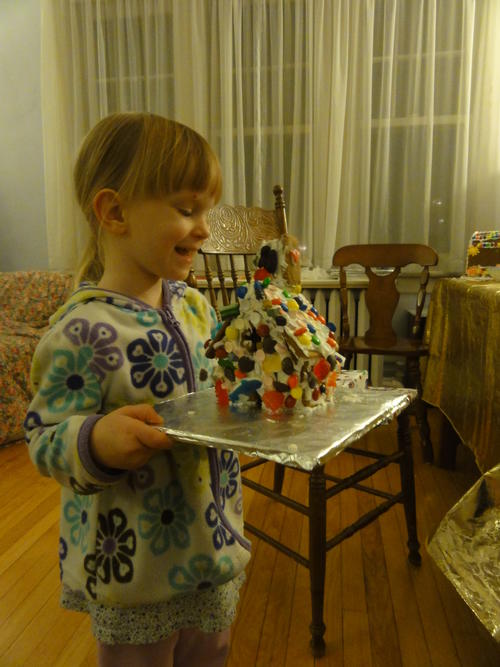 I would have felt more prepared for Gingerbread if I hadn't spent the morning baking eight dozen Christmas cookies. Don't ask me why I thought this would be the ideal time! Needless to say I didn't get around to building my own Gingerbread structure.
There's been a major shift in demographics. When we started out, we were all teenagers. Notice that there are now hordes of toddlers and preschoolers! Auntie Janice and Elizabeth helped me pre-bake pieces for some of the littlest builders. For the first time ever I actually downloaded some templates online. Seemed wrong somehow but we were glad to have the pieces when the kids arrived as most of them are at a stage where they are done after about fifteen minutes of candy placement!
Pre-baking was also a good idea because we got to test drive our dough. Slight panic occurred when it was a total failure; luckily we figured out the problem and were able to correct (it helps if you thoroughly mix in the dough!). The dough was much lighter than last year as we used fancy molasses rather than cooking molasses. This was entirely accidental, but I do think the result was tastier!
Elizabeth was very excited to have so many friends visit and especially loved having "her Rachel" come and build houses with her. There were many, many tiny little houses! I hear Maria ate most of hers within 24 hours... Two of them were lucky to survive long enough to go home, accidentally diving off various flat surfaces. It's a good thing that icing covers up most cracks! I loved David and Dianne's rocket ship (pretty sure that was a first!). Uncle Dave made a parking garage, inspired by the little gummy cars we had this year. Auntie Janice made a barn, complete with miniature hippopotamus. Iain and Renée are obviously hoping the hockey lockout comes to an end soon... Ben and Marie-Noëlle claimed they made Clara... Next year Clara will be big enough to show them how it's done I'm sure..
You might also like
- Gingerbread
(0.422449)
- At Mary's
(0.417296)
- Gingerbread
(0.41376)
- Gingerbread the 20th
(0.411814)
- Now we are six
(0.410936)
All