December 28, 2012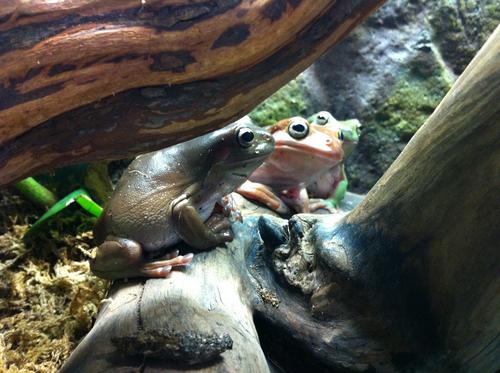 My friend Iain lets us take care of his "zoo" when he and Renée are away.
Elizabeth doesn't enjoy this as much as Mommy does - something about crickets really wigs her out. She apparently saw one on the floor and totally freaked out. I've discovered that she is now able to climb up my legs to my back without any help, given sufficient motivation! I was holding a full container of crickets at the time and nearly tipped right into the closest tank. The chameleon would have been very surprised...
1
On January 3, 2013 at 04:07 pm
Grandma H.
said:
So glad you had enough balance Mary! Oh, Elizabeth, I can hardly stop giggling. Mind you, I'm not too keen on crickets on the loose either.
2
On January 6, 2013 at 01:49 am
Grandpa H
said:
Loose Crickets Cost Sleep...
You might also like
- Frustrating Toy
(0.329939)
- Insectarium
(0.327619)
- Helping Hands
(0.325714)
- Le Patinoire
(0.324324)
- Chicken Chicken
(0.319079)
All