December 15, 2012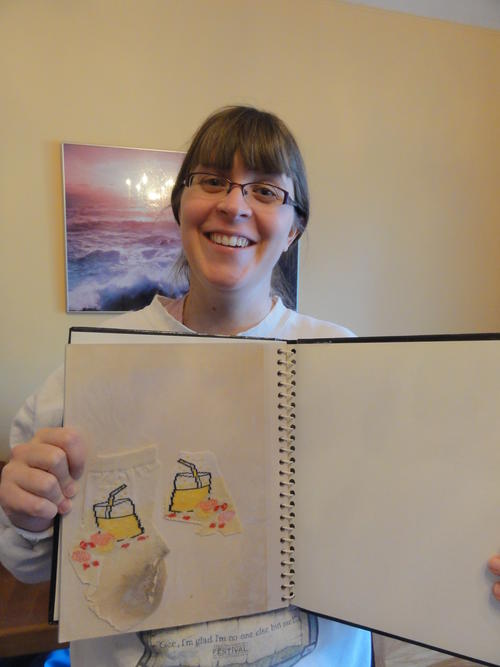 As part of "operation declutter the basement", we decided that it was high time to digitize our physical photo collection. Digital photos are not only more convenient to display and share with other family members, but they take up a lot less space! Those of you who have previously had access to our personal photo albums, please note that these photos have moved. You'll now need to get secret passwords etc. to see photos for everything except stuff on the blog. Well, and temporarily gingerbread / sailing photos, though we plan to remove those as well.
Scanning the photos was very interesting, and not only because it inspired many trips down memory lane! I was often in fits of giggles over the truly terrible photos we found it necessary to not only keep, but take the time to carefully place in a photo album. Clearly economics played a role, because very often I not only put one bad picture in my album, I put the duplicate (and triplicate!) below and beside it as well. I carefully captioned some with useful information like "this is a bear", in between randomly throwing pictures spanning several decades into a single album. In no apparent order! The next project is clearly to label some of these a little more coherently, but I will definitely require some assistance to figure out who/what/where/when/why on some of them.

I didn't always use my photo albums to store photos either. There was a whole collection of postcards - both blank and otherwise. Autumn leaves were apparently quite exciting when I was little, as was a large maple leaf infected by blight that I collected when I was eight. "Chicken pox!" says the caption. And clearly the pinnacle of my abbreviated scrapbooking career - a pair of totally unfamiliar but obviously beloved (and very dirty) socks. "Ewwwww!" said Elizabeth.
Apparently we stored about 1200 photos in our 22 albums. This represents most of the photos Brendan and I ever took up until the late nineties - and a few beyond that, as most of our wedding photos in 2001 were taken on old fashioned film. I also scanned my entire baby book, not that I am planning to dispose of THAT, but it's nice to think that I now have a backup in case the house implodes or something.
For comparison, we're approaching 30k photos taken on our camera since we purchased it two and a half years ago, and nearly 5500 photos in just over two years on my phone. In 2009, we kept and posted about 1500 photos to the blog. In 2010 and 2011, we had about 2600. I think it's safe to say that we are keeping more than double the number of pictures we had in the entire previous decade or two every single year!
1
On December 30, 2012 at 01:38 am
Grandpa H
said:
Apparently digital storage is too cheap... Certainly you are avid photographers and we love seeing the ones that come our way!
2
On December 30, 2012 at 01:46 am
Grandpa H
said:
... and those are some good memories that you posted as well!
You might also like
- Healthy Girl
(0.409916)
- Doors Open Ottawa 2009 - Traffic Operations
(0.407068)
- 20 Months Old
(0.4056)
- Homeschool wk apr 20-24
(0.403509)
- Sewing with kids
(0.401863)
All