December 31, 2012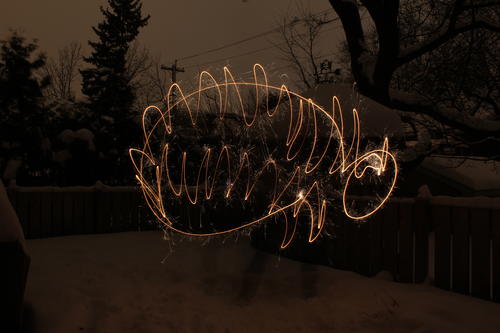 Uncle Dave, Auntie Karen, Xander, Auntie Janice, and Grandma and Grandpa J joined us New Year's Eve for our annual eating of much cheese.
We had meat balls and green beans oriental in addition to the "usual" sides of cold cuts and pickled things. I'm not sure if we normally get the Swiss raclette cheese, but it seemed much runnier than usual! The flavour was very good though.
After we could eat no more, we got Auntie Janice to put on a sparkler show for us. Elizabeth made various requests: snowman, hedgehog, horse, butterfly, heart, snowflake etc. It's always very amusing to try to guess what she's drawing. It's fun to look at the resulting pictures as well!
1
On January 6, 2013 at 01:57 am
Grandpa H
said:
Looks scrumptious, we look forward to round 2 :) And - Auntie Janice is obviously getting very good at sparkler art!
2
On January 6, 2013 at 10:55 am
Heather S
said:
I'm sad I missed it! The photos are fantastic. I always think it ridiculous when you guys photograph the food, until I see the pictures which look like a gastronomic magazine. yum. I love Janice's sparkler tradition.
3
On January 6, 2013 at 10:04 pm
Yukiko
said:
Same comment as Norm and Heather! Although our trip to Toronto/Windsor was very nice, I am so sad to miss my favorite annual raclette party!! I hope we'll do it again after your parents arrive from Africa!


You might also like
- Birthday party prep
(0.329181)
- Elizabeth is eight
(0.328767)
- Carp Fair
(0.326241)
- Good Friday
(0.324963)
- Thunner Torms
(0.320373)
All