January 6, 2013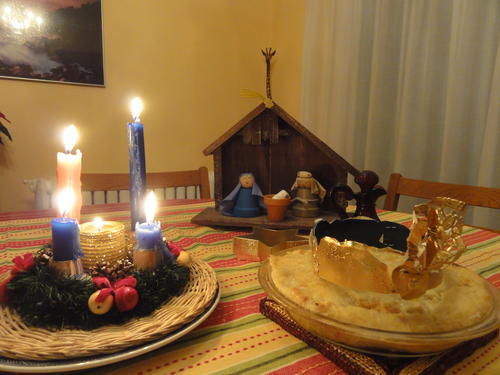 I made a gluten free Galette des Rois for the first time ever, with a lot of help from Brendan and Elizabeth. It turned out pretty well, though my "puff pastry" wasn't particularly puff-pastry-like. I tried the rough puff pastry from Gluten-Free girl, but I'm not at all convinced I interpreted the instructions correctly. Maybe I over-rolled it at the end? It was very good though, and the frangipane filling was lovely. Elizabeth enjoyed "painting" the top with egg yolk.
I have an old plastic favour from a commercial Galette des Rois in Belgium which Elizabeth and I carefully placed inside prior to baking. I thought I had suitably marked the spot so that I could rig who got to be king or queen, but apparently my mark was insufficiently different from the criss-cross pattern I made on the top! None of us found the plastic piece tonight, so we made up a rule that the "youngest" got to be Queen. Said youngest was quite desperate to wear the crown she helped make; I think she would have worn it to bed...
1
On January 7, 2013 at 04:30 pm
Grandpa H
said:
An anthropologist would have quite the time analysing the mix of traditions that you have adopted! ;)
2
On January 7, 2013 at 04:43 pm
Grandma H.
said:
Ooh, ahh, even attempting a galette is impressive- sounds wonderful. I hope no one ate the "feve" by mistake! (I see a lot of weird things ingested here) And Elizabeth makes a lovely little queen.
3
On January 9, 2013 at 07:23 am
Mary @ Parenthood
said:
Luckily we found the feve the next day in the last quarter pie, no less! Elizabeth got to be Queen properly. She was very happy!
You might also like
- 24 Sussex
(0.364125)
- Ballet
(0.36061)
- Arts N Crafts
(0.358295)
- Michael's birthday
(0.350738)
- Swimming lessons
(0.348917)
All