January 13, 2013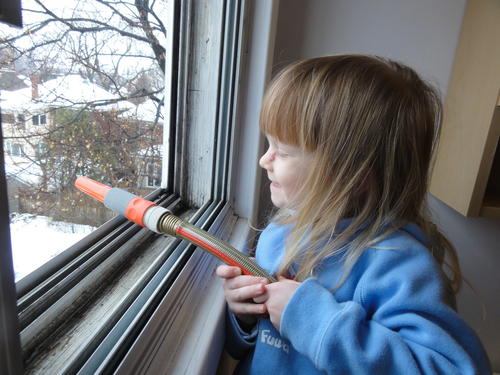 After all our snow (76cm on the ground!), we've been gifted with unseasonably warm weather the past few days. So much for the canal being close to being opened - all the outdoor rinks had to close when the temperature hit +7 C yesterday, breaking the previous 1932 daily high record.
Warm days and cool nights provide perfect icicles and ice dam weather. One house in our neighbourhood has an icicle the width of a person stretching from their second floor all the way down to the ground!
My twitter feed is full of fellow Ottawans with leaky roofs caused by the ice backing up their shingles, so when Brendan mentioned that CHMC recommended removing ice using hot water I was receptive to trying it out. Elizabeth was very keen to help too!
Regretfully, we found that the technique was not nearly as effective as intimidated in the article. We cut a few channels in the ice for drainage and then decided to hope the warm temperatures forecast for the next two days would do the rest.
You might also like
- River Oak
(0.353374)
- First day of preschool
(0.345178)
- Bloodwork
(0.341053)
- Rachel and Andrew
(0.338922)
- Virtual School: Week 37
(0.338877)
All