May 28, 2009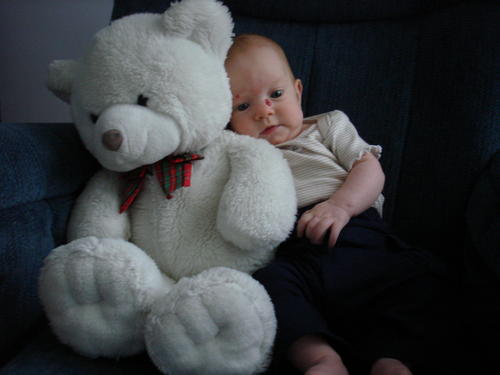 Elizabeth is officially three months old - so it's time for photos with the bear. Teddy is still much fatter, but she's obviously grown since last month!
She's now enjoying spending time sitting in her Bumbo and jumping around on the Jolly Jumper that we tried out for the first time today. Tentative at first, she quickly got the idea. It was a bit nerve-wracking to watch her lunge towards the door frame. As a result, we have a lot of video footage that jerks around suddenly depending on whether amateur videographer or nervous mom was controlling my hands at the particular instant in question.
1
On June 3, 2009 at 09:42 am
Grandpa H
said:
She's clearly taller than Teddy, and I bet she weighs more too :)
2
On June 3, 2009 at 11:31 am
said:
She's up to 10.5 lbs, but I have no idea how much Teddy weighs... He's got a bit more girth on her. We aren't entirely sure how long she is - she's so wiggly that it's difficult to get the same measurement from one time to another.




3
On June 6, 2009 at 00:36 am
Stephanie
said:
My baby girl is almost three months too. She officially turned 12 weeks today. :)
You might also like
- March Pukefest
(0.309091)
- Karate Nationals
(0.306688)
- Matthew and Elizabeth spectacle
(0.306122)
- It's for you
(0.305281)
- Four stripes to black belt
(0.304189)
All