February 2, 2013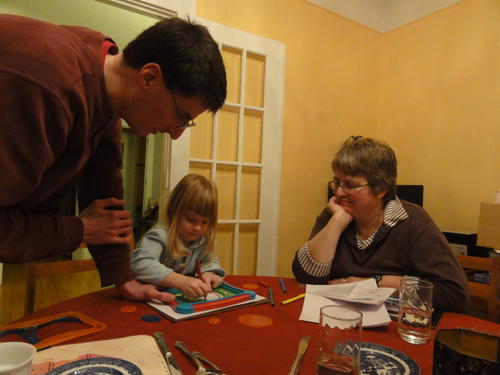 Friend Angie has arrived from England for her annual skating on the canal. Despite the crazy ups and downs we've had in the weather recently things have settled down and the ice is cooperating nicely this year, although we could use slightly less windchill...
Elizabeth was pretty excited to get her first 4th birthday present - a fancy spirograph. She caught on quite quickly to the basic concept and even managed to produce some works unassisted. If she is to truly enjoy it she may however need to pry it out of Daddy's hands as he always wanted one as a child.
1
On February 15, 2013 at 11:41 am
Janice
said:
I had a spirograph set when I was a child. I *loved* it! (So I completely understand Brendan - and want to play with it myself. *g*)
You might also like
- Terrible Tomatoes
(0.324074)
- Come sing Messiah Rehearsal 2
(0.321368)
- Look Ma! No hands!
(0.321368)
- Crystal Gardens
(0.319555)
- Bike to school (violin edition)
(0.318462)
All