February 3, 2013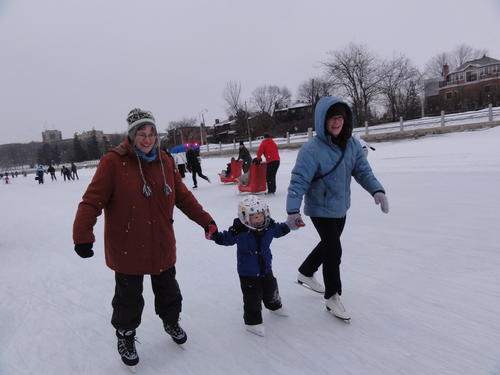 Angie, Auntie Janice, Grandma H, Elizabeth and I all went for a quick skate this afternoon before heading to Uncle Chris and Yukiko's for a second raclette dinner with all the Grandparents, Geoff, and Auntie Heather.
Since I am roughly forty-seven months pregnant I didn't actually skate. Instead I waddled carefully down the canal wearing Yak-trax, which are surprisingly effective. Elizabeth skated and glided and skated some more. I figure she probably travelled about 0.75 km before climbing into the stroller. She would have been fine without the stroller, but for some reason she feels riding in the stroller is an enormous treat. We've been trying to "wean" Elizabeth from using the stroller, but agreed she could still use it on the canal.
1
On February 7, 2013 at 09:43 am
Grandma J
said:
"47 months pregnant" Wow! That must be a record - I'm sure it feels that way.
2
On February 8, 2013 at 08:39 pm
Grandpa H
said:
We trust that you will make it to 40 weeks minus a day - 47 months would be too dragon-like ;)
You might also like
- Non-stop party!
(0.333333)
- Wheelchair races
(0.330922)
- A zoo party
(0.329655)
- River Oak
(0.327446)
- End of an Era
(0.327389)
All